Here is our third 'Reconnect with…' blog encouraging visitors to Dorset to take the time to slow down and appreciate their surroundings. This time it's all about water and we've got some great ideas to get you back in touch with your inner water baby.
What's SUP?
Stand Up Paddleboarding or SUP for short has become super popular as a gentle and quiet way to enjoy being on the water. And there are many places in Dorset where you can get expert tuition for first timers or join an organised paddle tour.
Our rivers and shallow harbours are especially suited to beginners as the waters are calmer and if you fall off, as the water is not too deep, it's easier to get back on the board!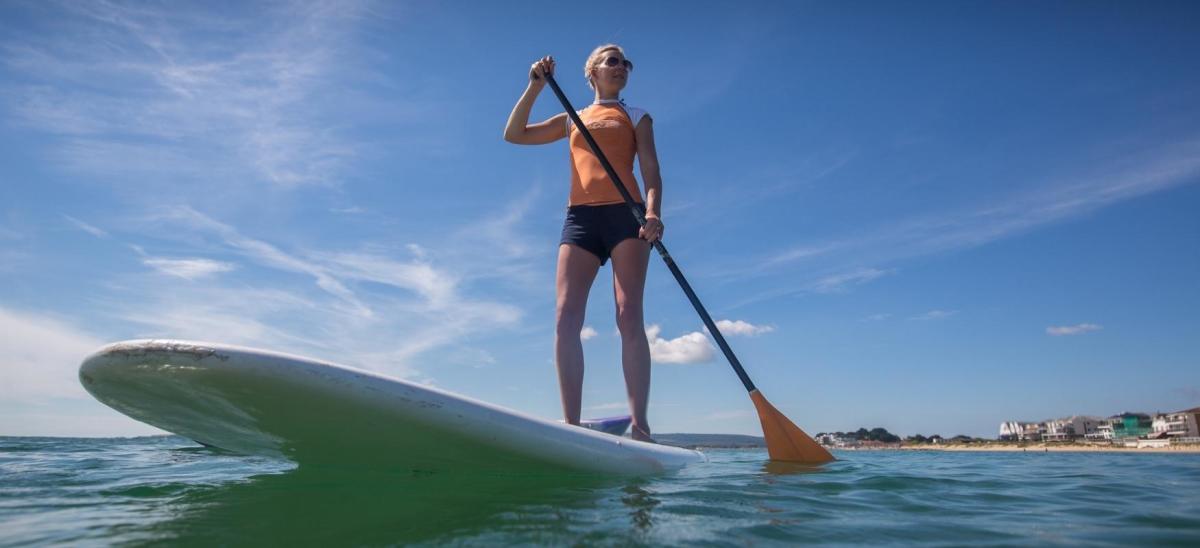 If you want to try out a SUP Fitness class, book in with the SUP Physio at Lulworth Cove. You won't have to worry about waves as you'll be in a swimming pool not the sea, but we can't guarantee that you still won't end up in the water!
Check out our blog all about Paddleboarding in Dorset.
Sea swimming
Locals have been swimming all year round at Dorset's beaches for years, but it's only recently that the craze of cold-water swimming has really taken off.
You've probably seen many celebrities trying it out on TV including ITV's Lorraine Kelly and Scottish comedian Susan Calman. Now's your chance to give it a go on your next trip to Dorset.
Swimmers rave about the euphoric feeling they get after getting out of the water as well as the wide range of health benefits linked to submerging in cold water. Boosting immune levels, improving mental health and lowering stress levels are all linked to cold-water swimming.
You don't need loads of expensive equipment but we do advise contacting one of the local groups or instructors to ask about what you'll need to bring with you and how to gradually warm up afterwards – a hot shower is not the answer.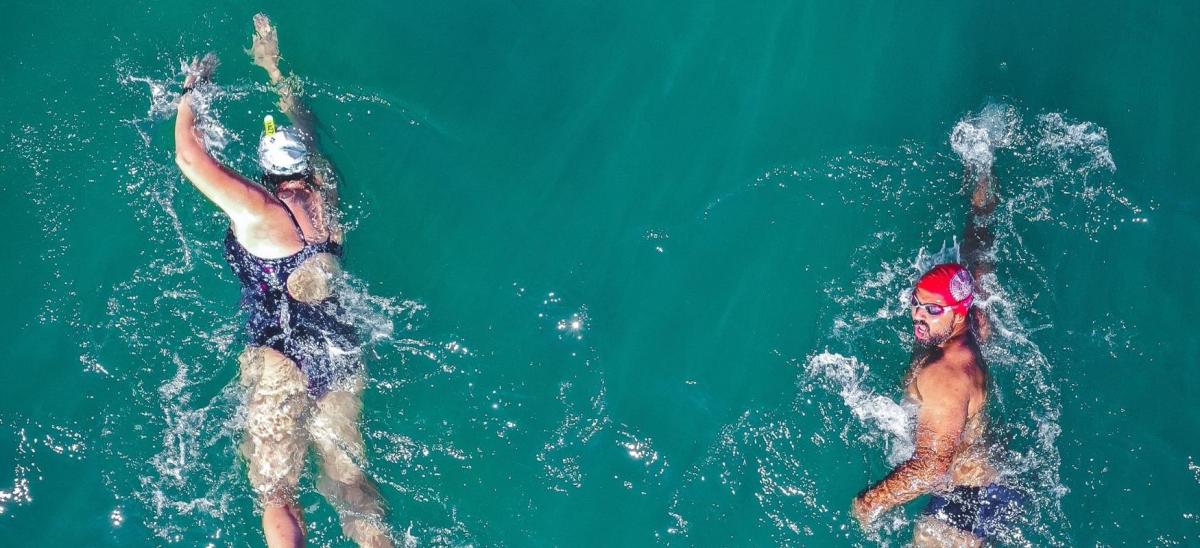 For safety reasons it's always best to swim with others, so whether you just want a quick dip or are willing to brave a full swim, there are lots of local group events and meet-ups to join.
The Bluetits Chill Swimmers have informal, social meet-ups all along the Dorset coast at Lyme Regis, Bridport, Weymouth, Studland, Poole, Bournemouth and Highcliffe.
You could also sign up to a taster session with qualified instructors at Lyme Regis, Poole or Bournemouth. And if you're really keen (and an experienced swimmer) you can go on a wild swimming adventure with Jurassic Coast Swimming.
With hot sunny days warming up Dorset's waters, late summer and early autumn have some of the warmest sea temperatures during the year - perfect for trying out a new water sport.
Kayaking and canoeing
A lot like stand up paddleboarding, but with less chance of falling into the water, kayaking or canoeing is a slow and gentle way to explore rivers and seas.
Go as fast or slow as you like or just let the current guide you as you meander across the water, stopping for breaks and gazing into the water as you go.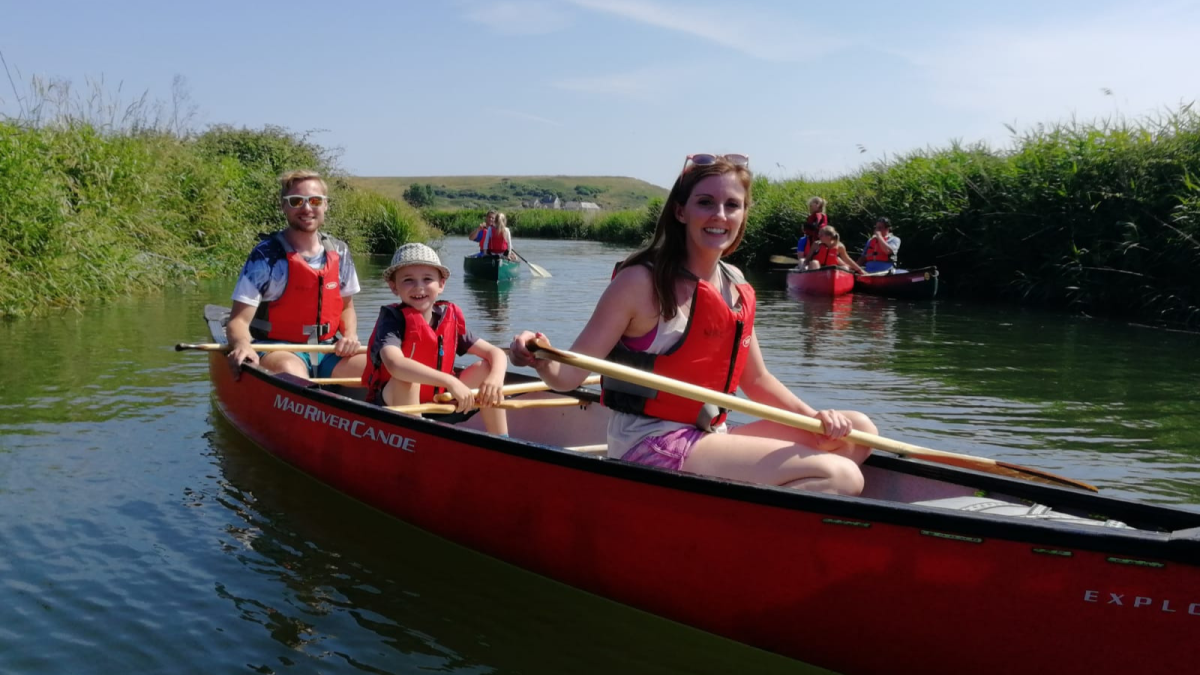 Photo courtesy of West Bay Canoes
You'll get to visit places that can't be reached by car, or perhaps not even by foot! Plus, being out on the water gives you a completely different view of the shoreline and landscape beyond.
An added bonus with kayaking and canoeing is that you can pack up a picnic to take with you and make a day of it. And you get to share the effort of paddling with others in your group – winning!
What lies beneath!
If you don't just want to dip your toe in the water and would rather dive right in, there are plenty of opportunities to go snorkelling or diving along the Dorset coast.
At Kimmeridge Bay, follow the Snorkel Trail for a chance to see peacock's tail seaweed, connemara clingfish or Montagu's blennies. If you don't have your own snorkelling gear, you can buy some from the Wild Seas Centre on the edge of the bay. At the Centre, you'll also find lots of information about the marine wildlife that can be seen in the rockpools nearby.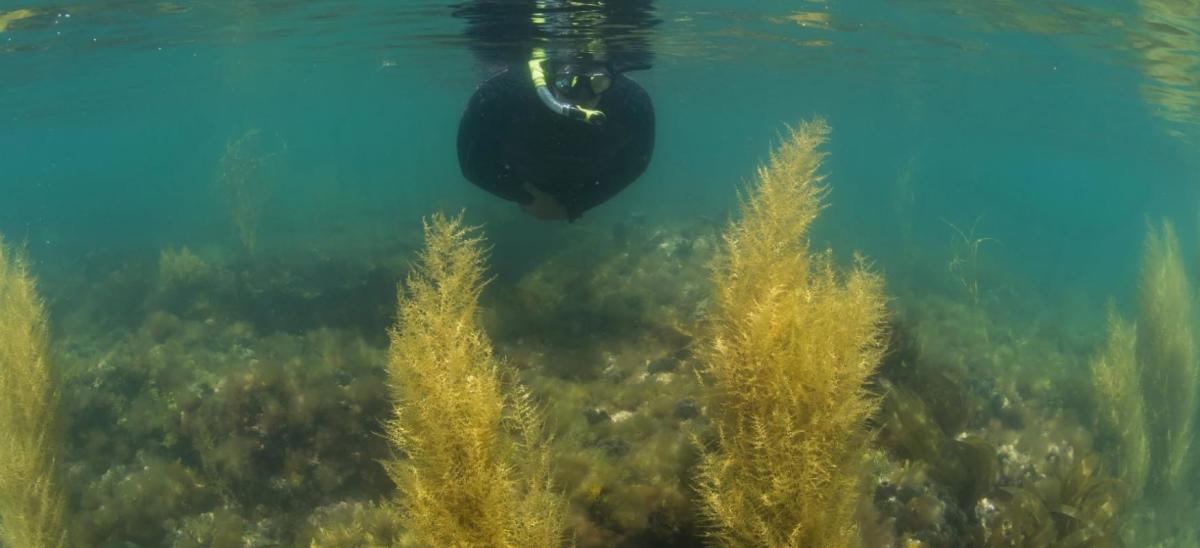 Snorkelling in Kimmeridge Bay - photo courtesy of Julie Hatcher
Experienced divers can explore shipwrecks and underneath piers to see a huge variety of fish and other sea creatures which go unnoticed by those above the water. Diving day trips operate from Swanage Pier, Weymouth Harbour and Poole. Beginners can do a 'try dive' at Swanage Pier as part of a diving day experience.
Whether you're a beginner or advanced, we'd always recommend booking on a guided tour and seeking advice from local experts – it'll make for a much more enjoyable and safer day out when you get to see all the best bits of Dorset below the waterline.
Reconnect with Dorset
If you'd like to read our other blogs about reconnecting with Dorset, click on the following links: