Cranborne Chase AONB
International Dark Sky Reserve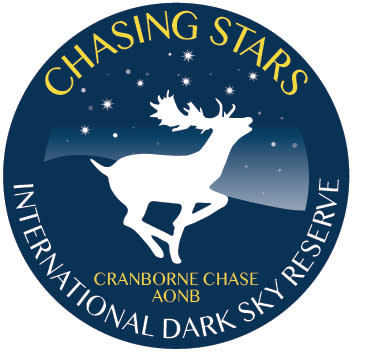 Cranborne Chase Area of Outstanding Natural Beauty is an International Dark Sky Reserve and much of the reserve is in Dorset.
One of only 17 International Dark Sky Reserves (IDSRs) worldwide, these Reserves are places recognised for the quality of their night skies, and which take measures to maintain and improve this quality. They are great places to stargaze and as Cranborne Chase AONB is 380 sq miles, that's a lot of space to give it a go!
Thanks to the help of local communities, local parish and county Councils as well as volunteer astronomers and a whole host of other people, the dark skies of Cranborne Chase AONB are VERY dark.
It took a long time to achieve this designation but the work doesn't stop there. We have to keep making our dark skies darker and they are grateful to each and every person who helps by dipping their security light, puts black out blinds on their skylights and takes the time to tell everyone else just how great dark skies really are. They hope you enjoy them as much as they do.
Visit Dorset is delighted to be working in partnership with the Cranborne Chase AONB Chasing Stars team, who have assisted with information for these website pages.
Together we aim to raise awareness of the Dark Sky Reserve status, promote the beauty of the night sky and the reasons why preserving them is great for our environment and health.
The country town of Shaftesbury close to Cranborne Chase AONB
Read more about this designated area of outstanding natural beauty
There is mile upon mile of beautiful countryside in Dorset just waiting to be explored.
What does your Dorset look like? Adventures on our epic coastline? Visiting attractions with family? A walk through the beautiful countryside? Or perhaps a chilled out evening eating and drinking with friends? Discover a sample of your #VisitDorset images below and share your love for Dorset using the hashtag on Instagram.