This is the second in our series of blogs about reconnecting with Dorset during 2021.
This blog is all about exploring our fabulous county on foot as well as learning a little bit of history on your journey.
We hope you enjoy some fresh air and feel a spring in your step on these 5 walking routes. Not only is the scenery and landscapes amazing to look at, there is a story behind what lies hidden beneath your feet as you walk through Dorset's beautiful countryside.
Discover mystery and intrigue as you wander along riverside walks, over the top of hills or next to the magnificent Jurassic Coast. Even if you're not a history buff, you'll still get to see cracking views and there is always a pub, café or tearoom nearby to sample a few local flavours.
If you are looking to be eco-friendly when you visit, you can plan your journey by public transport using the Traveline website. It will show you how to get from A to B, along with train or bus timetables too.
Starting at: West Bexington beach
How far? 17 miles (27.5 km) one-way but shorter, circular routes are available
How long will it take? At least 6 hours for the long route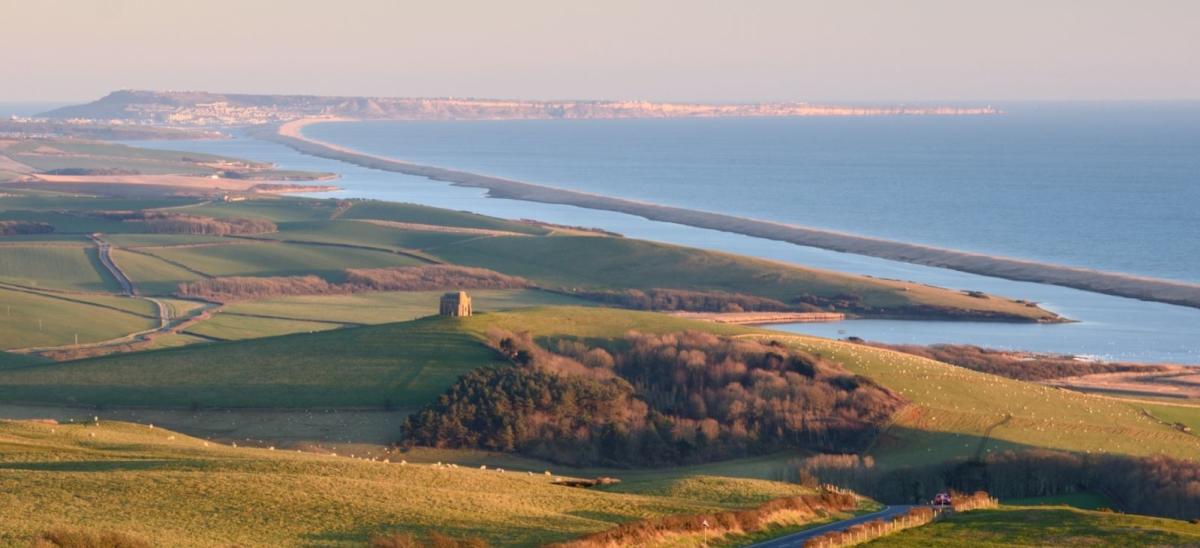 The South Dorset Ridgeway is part of the South West Coast Path national trail and connects West Bexington to Osmington Mills via an inland route.
The Ridgeway is not only an ancient trackway but also a ridge of high land with such historical importance that it is compared to Stonehenge and Avebury. You won't see huge stone circles, but you will see the 'lumps' and 'bumps' built by the locals from around 6000 years ago. In those days it was a place to celebrate life and bury their dead – and now it is a fantastic walking trail with far reaching views of the Jurassic Coast.
Highlights include views of Chesil Beach, the Fleet Lagoon, Abbotsbury Castle (an Iron Age hill fort), The Hardy Monument, Bincombe Church and the White Horse at Osmington.
You can walk in either direction with parking available at both ends of the route. Public transport is also available.
Starting at: Tuckton Tea Gardens at Christchurch
How far? 6 mile (9 km) circular route which can be shortened
How long will it take? 3 hours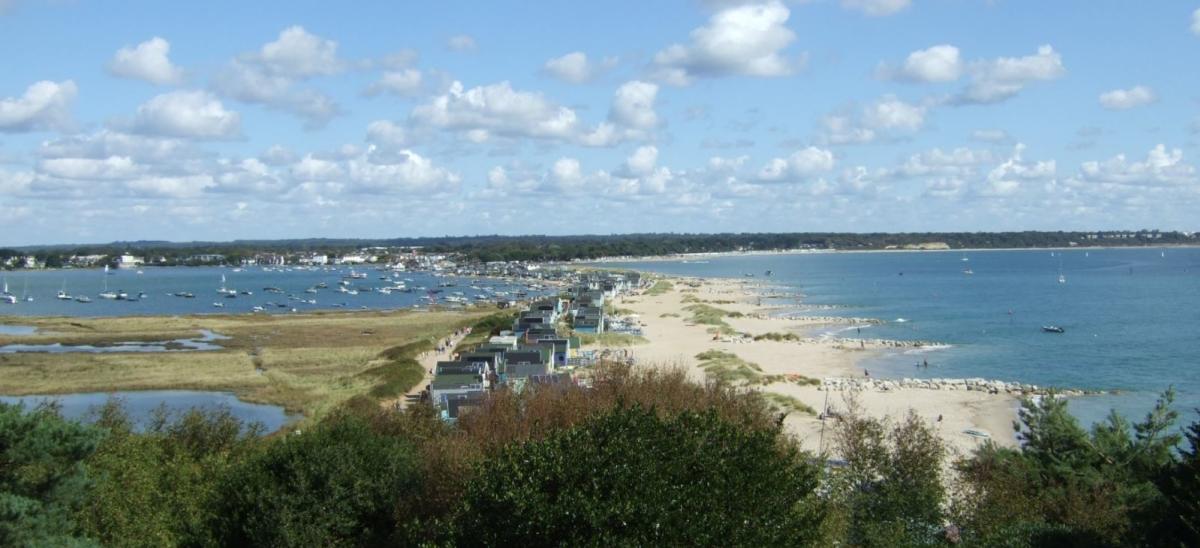 The Stour Valley Way is a long distance trail and this section travels alongside the River Stour from Tuckton to Hengistbury Head.
The café at Tuckton Tea Gardens is perfectly located to pick up a picnic before your walk or stop for something to eat or drink when you have finished.
With the river on your left, walk downstream towards Christchurch Harbour. The route is very easy to follow – look out for signs along the path showing a Kingfisher. You will pass by Wick Ferry and then out into the water meadows towards Hengistbury Head. Once you reach the headland, you can either walk up and over the top for amazing views of the harbour and coast, or follow the slightly shorter and much flatter tarmac track which starts next to the Hikers Café (heading away from the road with the car park behind you).
Once you reach the beautiful sandy beach at Mudeford Sandbank, either re-trace your steps back to the beginning or follow the flat tarmac track (alongside the Harbour's edge) to the Visitor Centre where you can learn about the history of Hengistbury Head. Alternatively, you can catch a ferry from Mudeford Sandbank back to Tuckton Tea Gardens along the river.
Archaeological excavations show that people have been visiting Hengistbury Head since the end of the last Ice Age (around 12,000 years ago) and for this reason it is known as an Ancient Monument. Over the years it has been a place for hunting, burying the dead, a trading port, mining and most recently a Nature Reserve. There is an exhibition inside the Visitor Centre about archaeology and the local wildlife.
There is a car park at Riverlands (Wick Lane) which is very close to Tuckton Tea Gardens. The nearest bus stops are at Tuckton Bridge which are a few minutes' walk away.
Starting at: Worth Matravers duck pond
How far? 3 mile (5 km) circular route
How long will it take? 2-3 hours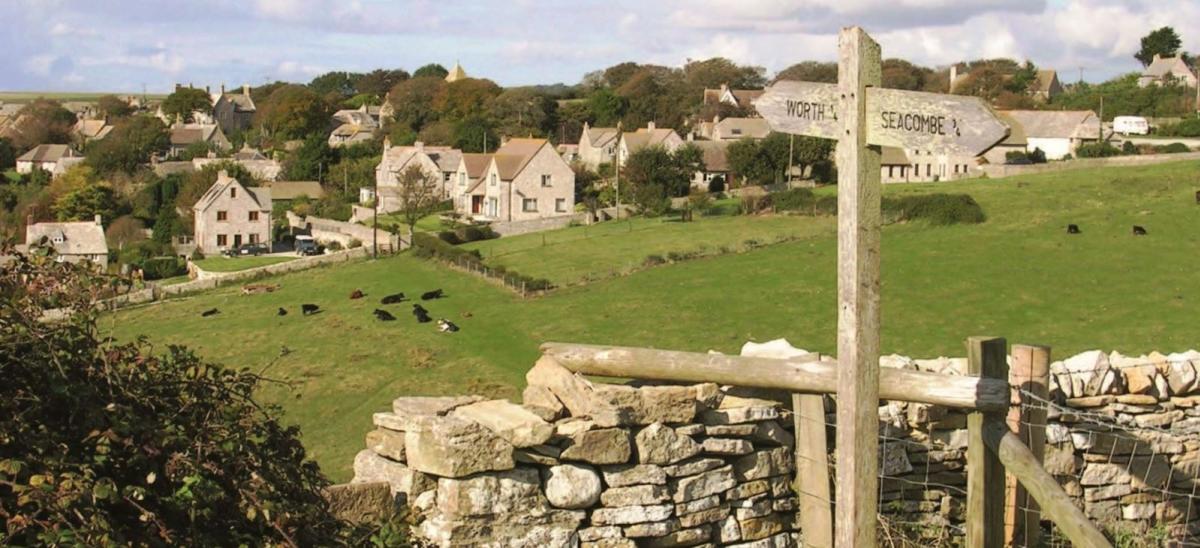 This trail was once used by Smugglers, who under the cover of darkness would store their smuggled goods in hidden caves and tunnels. As you walk along, you can follow in the footsteps of Isaac Gulliver and find out what life as a smuggler was like in 1790.
The route heads downhill from the village to the coast and back up again after Seacombe, so make sure you pack some snacks and drinks to keep you going.
Highlights include Seacombe, the Jurassic Coast, a secretive cove and Winspit Quarry (recently used as a filming location for the latest Star Wars film, Andor.
There is a car park in Worth Matravers village near the Square and Compass pub. Unfortunately, you cannot get to the village by public transport.
Starting at: Wareham
How far? 1 mile (1.6 km)
How long will it take? Less than 1 hour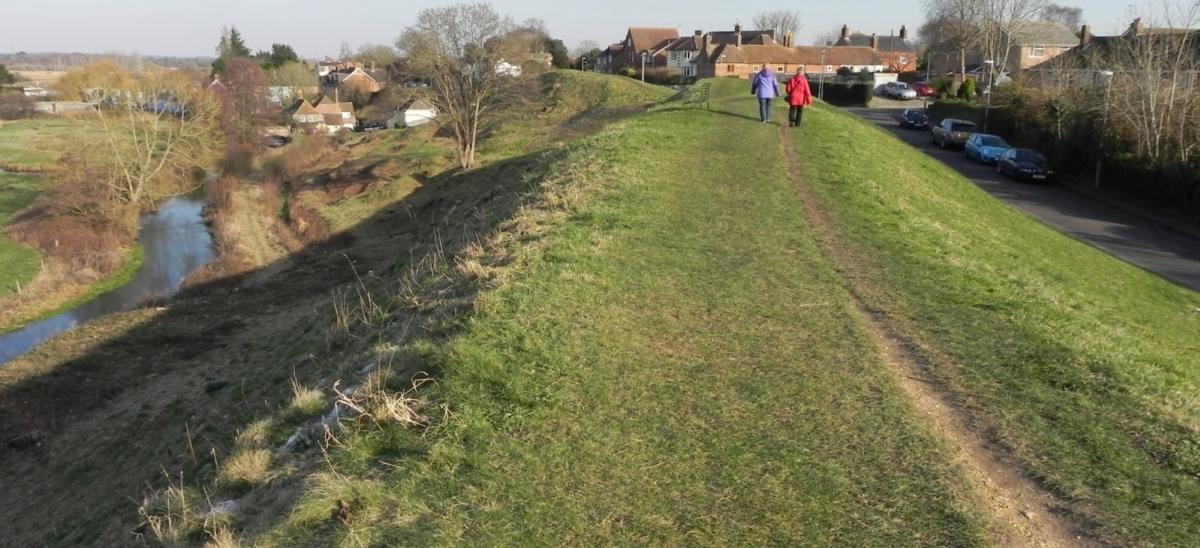 The town walls which surround Wareham were built in the 9th Century and are the best-preserved Saxon town defences in England.
The Walls were originally built on the instructions of King Alfred the Great to defend the town from the Vikings. It is thought that there would have been structures on top of the ramparts, but now, only the grassy mounds remain.
You can walk along the top of this ancient monument with views of Wareham Common and the River Piddle as well as passing by Bloody Bank - the site of gruesome hangings in days gone by. There are information boards along the route where you can read about the local history and lots of benches for enjoying a picnic or simply watching the world go by.
Starting at: The Hive Beach bus stop at Burton Bradstock
How far? 4.6 miles (7.4 km) one-way
How long will it take? 2 hours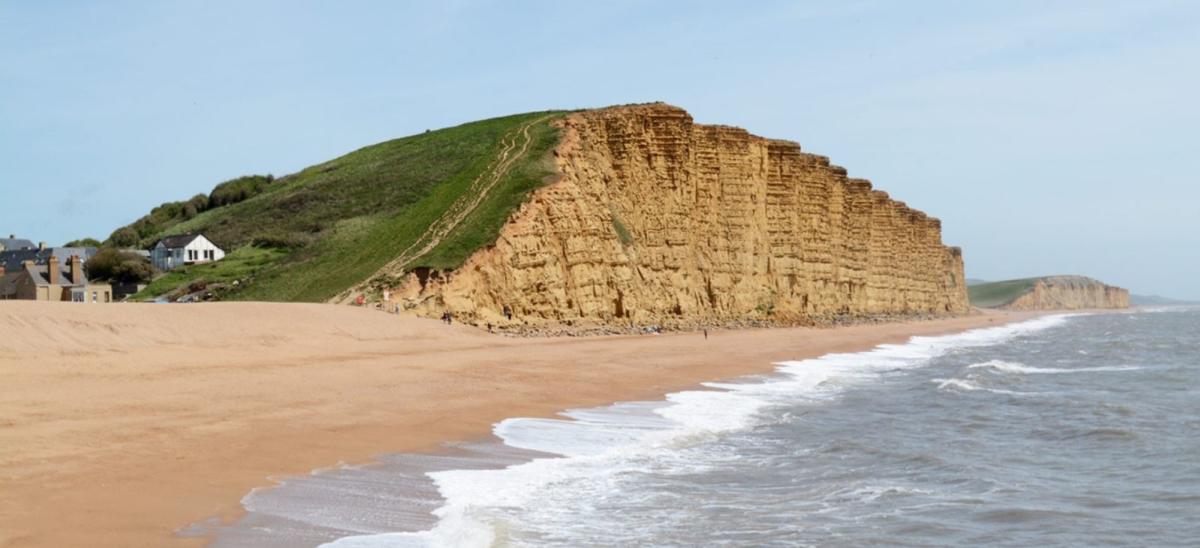 This route is designed for walkers travelling by bus and once you've finished the walk, you can either re-trace your steps or catch the X53 Jurassic Coaster bus back to the start. However if you are driving, there is a National Trust car park at Hive Beach which is a short walk away from Hive Beach bus stop.
Follow a ridge of 170 million year old Jurassic limestone from the River Bride to the River Brit. Along the way, look out for old quarries that provided stone to build the surrounding towns and villages.
There are cafes and pubs at both Burton Bradstock and West Bay where you can enjoy something to eat mid-way or after your walk. Fans of the TV series Broadchurch will recognise the golden cliffs at West Bay as those featured as the backdrop to the award-winning crime drama.
Reconnect with Dorset
If you'd like to read our other blogs about reconnecting with Dorset, click on the following links: