With the summer sunshine lingering longer, September is a great time of year to get out on the water. And if you happen to fall in, the water temperature is at its warmest in the autumn!
Whether you are looking to experience a beautiful, calming paddle down a local river or riding some waves on the beach, Dorset has many fantastic paddleboarding locations for all abilities and weather.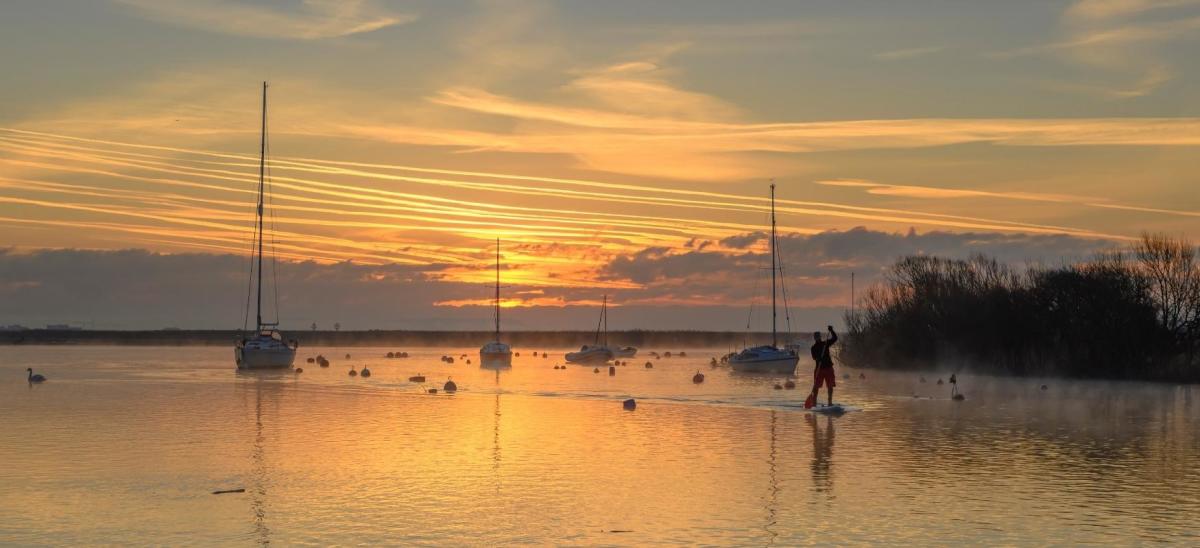 If you're a beginner, we recommend that you have a paddleboarding lesson with an instructor before you paddle by yourself, as you will learn all about the equipment, techniques and essential safety information.
No matter your experience level, always remember to check the water conditions, tides and weather beforehand, and be prepared as conditions can change quickly. Wear appropriate clothing and buoyancy aids and carry a waterproof radio or phone to contact the emergency services if you need to. Most importantly, respect the water.
The RNLI has some expert tips on paddleboarding safely and if you have your own board, you can watch a short YouTube video showing how to attach your leash to the board correctly.
Here is a selection of some of the best locations in Dorset, with lessons for beginners and tours for more advanced paddlers.
Studland Bay and Old Harry Rocks
Studland Bay is a beautiful, secluded setting to try Stand Up Paddleboarding. Explore the wildlife and sea life of the bay with the stunning backdrop of Old Harry Rocks and the Jurassic Coast.
Fore Adventure at Studland's Middle Beach has two hour lessons for beginners at £40 per person - learn how to control the board, various paddle strokes and how-to self-rescue. There is also a half-day tour over to Old Harry Rocks for intermediate-level paddlers, a perfect way to spend the afternoon in this beautiful setting.
Lessons include tuition and equipment.
Portland Harbour
Portland Marina is a well-sheltered part of Portland's historic harbour. The marina is fantastic for new starters and those who want to have a relaxing paddle. You might even get to spot Portland's local friendly dolphin.
Whether you are a complete beginner or want to master your paddling skills, Adventure 4 All offer various lessons. Learn the skills to be a self-sufficient paddler as a beginner or advance skills like downwinding (SUP surfing).
Wetsuits, buoyancy aids and board are all provided with prices starting at £26 for a 1 hour taster session. Customised tours are also available.
River Frome at Wareham
River paddling offers an entirely different experience from being on the open water and with this location being so sheltered, it's perfect for all abilities.
Take in the surrounding nature and wildlife and let the world float by as you explore the River Frome at the quaint market town of Wareham.
Wareham Boat Hire Ltd offers 1-2-1 SUP tuition from Abbots Quay for £35 an hour. They also hire out SUP's, kayaks, canoes, row boats and electric boats too.
Sandbanks and Poole Harbour
Poole Harbour and Sandbanks is a great location for paddleboarding newbies and those who want to practice. The harbour has easy access and is shallow, making it ideal for beginners.
The Watersports Academy has lessons starting from £25 and includes tuition and equipment. You can choose a 1 hour lesson or a two hour lesson and tour - ideal for those wanting to explore a little further and a fantastic way to see Poole Harbour.
Lyme Regis
Experience the beautiful bay of Lyme Regis by SUP and see the stunning Jurassic Coast cliffs and Cobb harbour. Lyme Bay is safe to paddle, easy to launch and great for beginners.
Located on the seafront at Lyme Regis, Boylos offer lessons for all levels starting at £30 for a 1 hour lesson.
All classes are tailored to suit each person, so they have the best SUP experience. Instructors will show you how to control the board, tips and you can even try some paddleboard yoga! Both group and private lessons are available.