Astrophotography
Kevin Ferrioli
The following information and inspirational photos were kindly provided by photographer Kevin Ferrioli, Visit Dorset suggests always planning your trips carefully, including when visiting coastal locations staying away from cliff top edges and undercliffs due to frequent cliff falls.
Inspiration for Astrophotography locations by Kevin Ferrioli
Maybe I am biased, but I am struggling to find other places in the UK that offer a better variety of sceneries than Dorset. I have been travelling along the Dorset coast for the last 7 years trying to capture the best views of the Milky Way, a subject so fascinating and mysterious, parts of the nebulas are visible to the naked eye, others only to the camera sensor.
Here are a few suggestions of the locations I enjoy, the ideal time of year to attempt it and finally the difficulty level when aiming for the best results. The difficulty is measured by the levels of light pollution of the nearby towns and villages and how tricky is to create a composition under such conditions.
Hengistbury Head and Mudeford.  
This location can provide the very first views of the Milky Way in the year
Timing: The best months are from April to July.
Access:  A non-stop walk of about 30 minutes to get to the head.  The main beach car park is closed at night.
Difficulty: Low to High - Due to the main populated areas located relatively close, handling the light pollution could be tricky.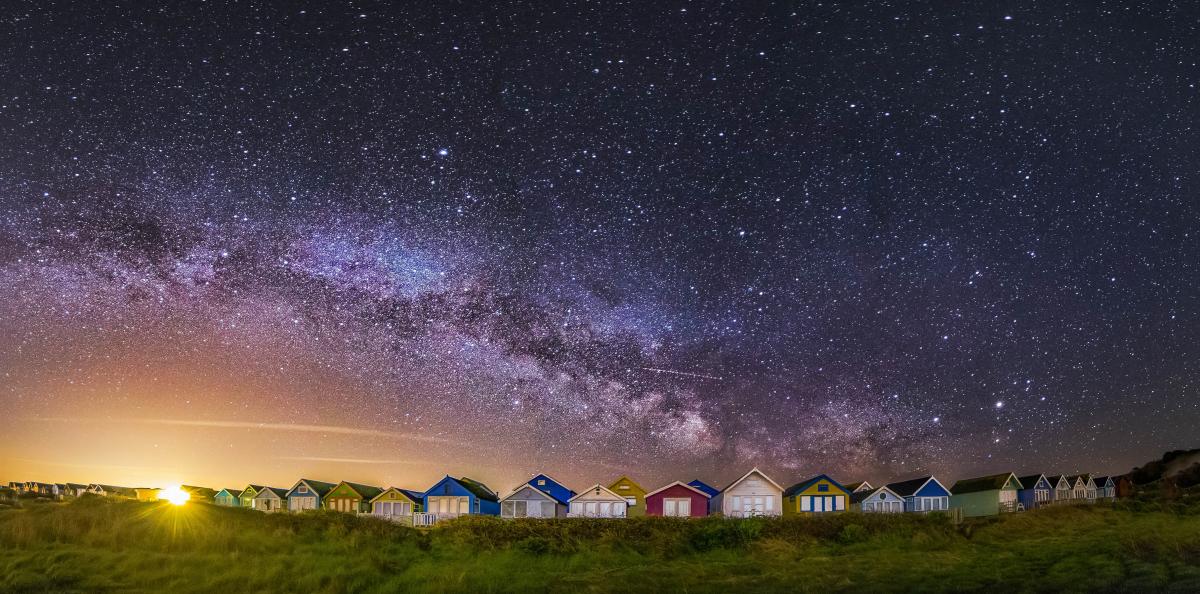 Peveril Point, Swanage 
This is my usual location for the very first milky way shot of the year.
Timing: Sometimes there is a small window (only last few minutes) to capture it by the end of January!  The best months are February - July.  
Access: Easy, a short walk from Broad Road Car Park (night parking charges apply from 6pm) and along Peveril Point Road.  Beware of the cliff edges, rock falls are frequent in this area.
Difficulty: Low to medium.

Durlston Country Park
Located just 5 minutes from Peveril Point in Swanage (above), the very best place in Dorset for beginners. Durlston offers fantastic creative possibilities too. The Milky Way is easily visible with the naked eye.
and the site is catalogued as a Milky Way Dark Sky Discovery Site.
Timing: Ideal during the spring, summer and autumn seasons,
Access:  Easy. There is a car park (night parking charges apply), easy access to the walks.
Difficulty:  Low.

St Aldhelm's Head
Another fascinating place. Here you will find St Aldhelm's Chapel, a Norman jewel of the 12 Century.  Also there are some building ruins and remains of previous quarry activity and the radar monument, with amazing views.
Timings: The best months are from April to August.
Access: Medium (a long walk). About 30 minutes from Renscombe Car Park in Worth Matravers.  
Difficulty: Low to medium.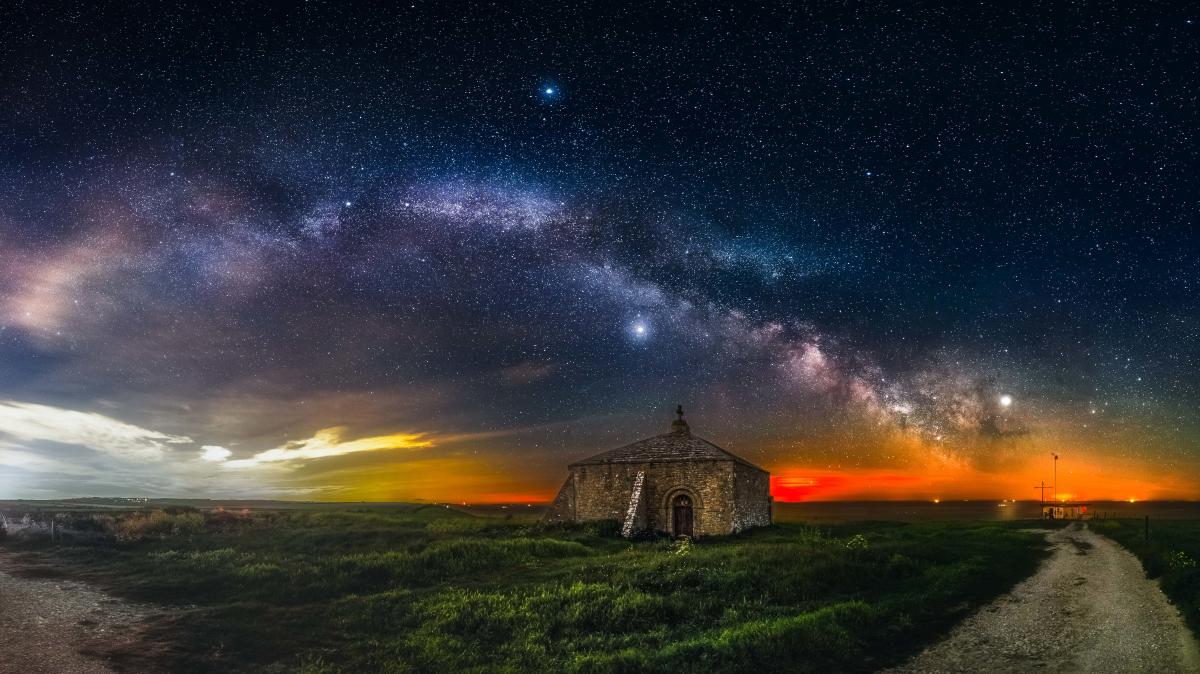 Portland Bill Lighthouse
Timings: Best months from March - August.
Access:  Easy walk on footpath from Portland Bill car park, which is open 24 hours a day.
Difficulty: Medium.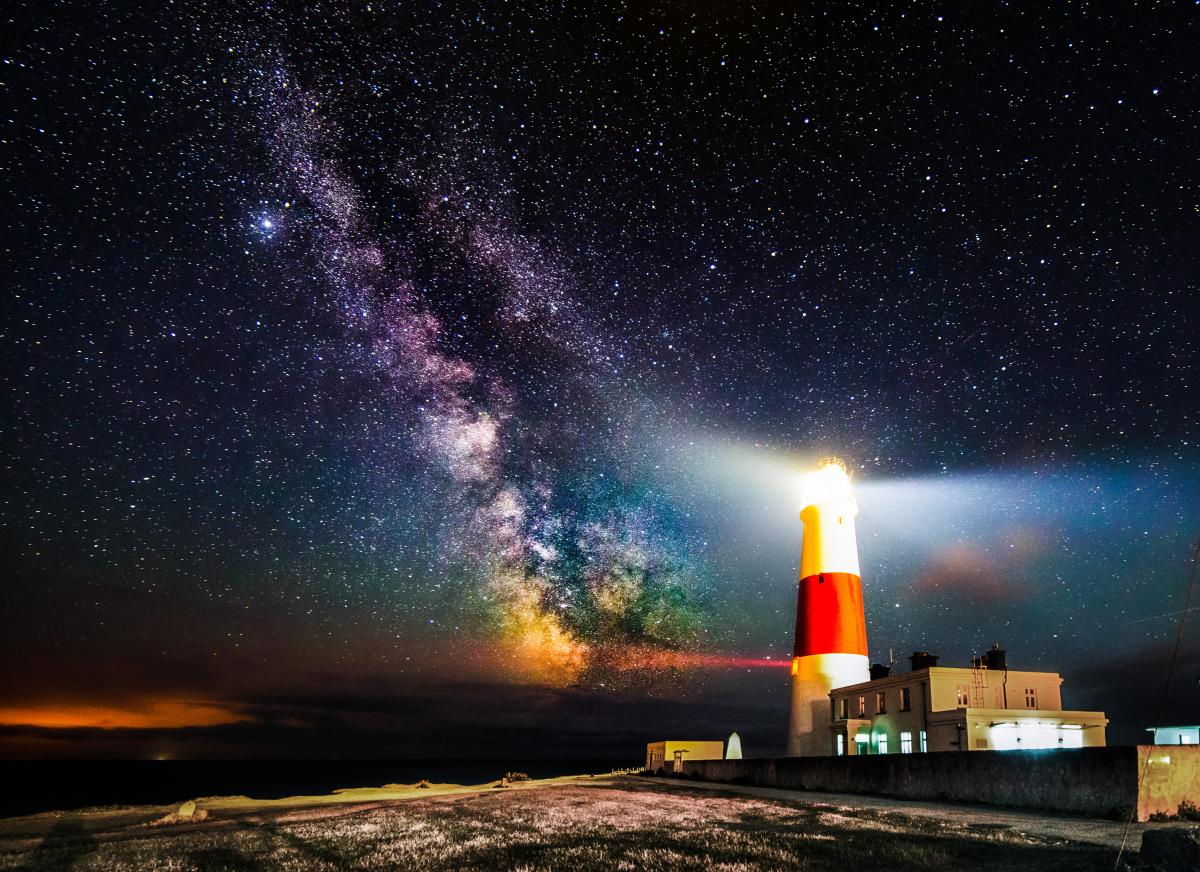 Corfe Castle
These iconic castle ruins are quite a view during the day but at night...the hidden marvels really make an appearance.
Timings: Best months are from May to August.
Access: Easy to medium. There are multiple places from where to capture it, two of them involve a steep short climb.  
Difficulty: medium to high. This is due to the light pollution from the village. Use light pollution to your advantage.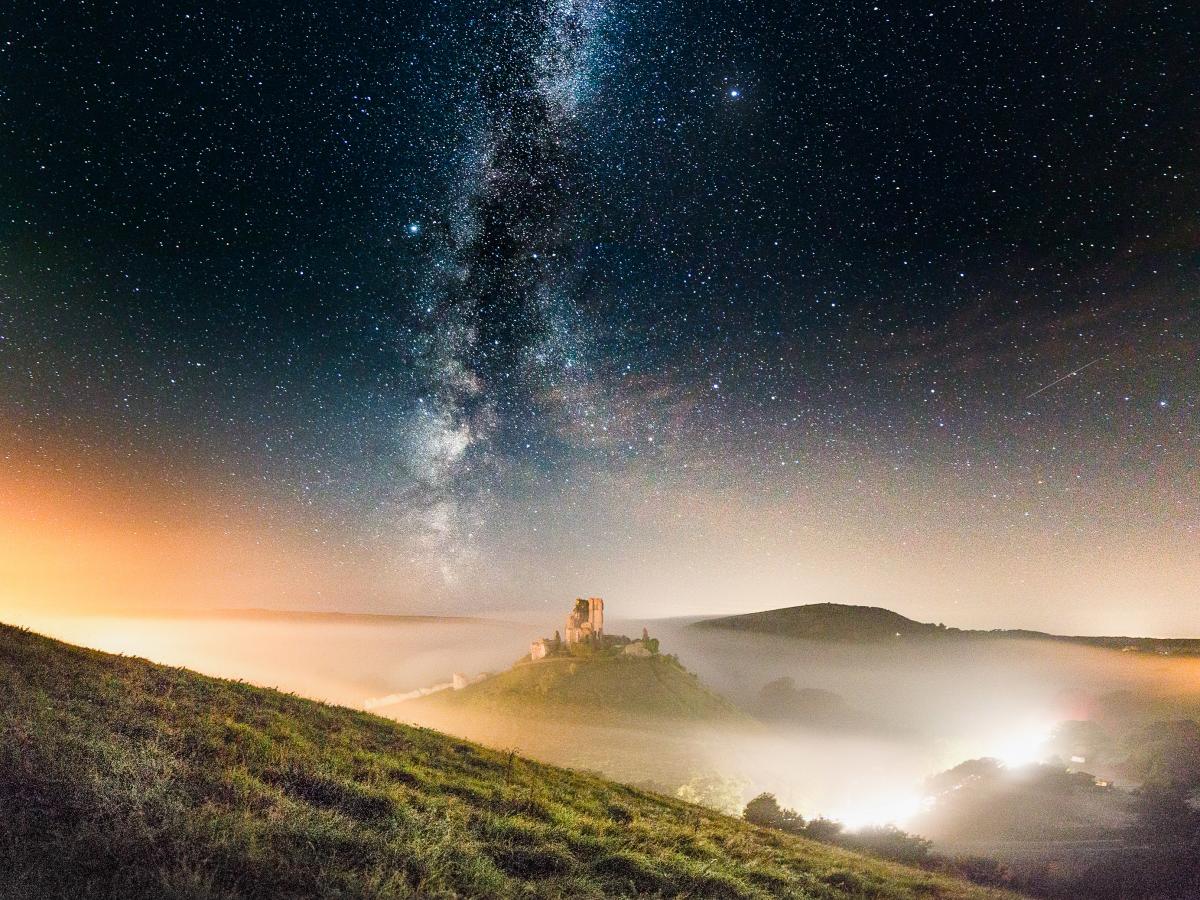 Durdle Door 
The most popular location, despite being nowhere near the darkest. The area has two very beautiful places to photograph: Man 'O' War Bay, and Durdle Door.
Timings: Timings: Best months are from April  to August.
Access: Medium to hard - There is no night time parking anywhere near Durdle Door access to the carpark is closed and there is parking enforcement beyond that point, so a long walk can be expected. The best way to access is to stay at Durdle Holiday Park open March to November or Durdle Door Holiday Cottages open year-round. 
Difficulty: Low - Medium. Towards the end of the year, the Milky Way is getting close to the lights of Portland Bill and Weymouth, making the captures a bit more difficult.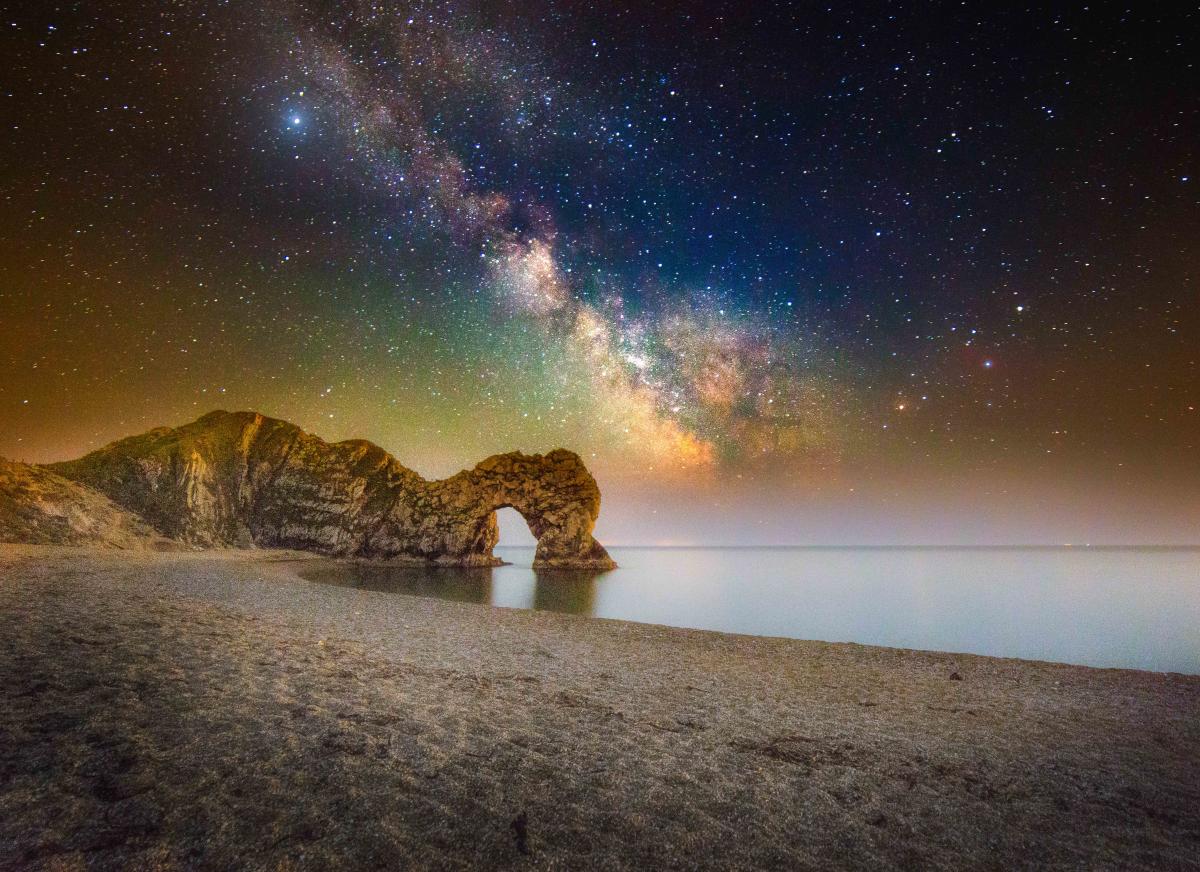 Dorset has many more locations, but if you have not visited them before, I strongly recommend contacting one of the talented local astrophotographers who will happily guide you to the hidden gems.
Most places mentioned on this list have easy to medium access, however, it is always advised to exercise caution and common sense, because there are places that are relatively close to the cliffs, planning is fundamental.
Enjoy Dorset and its magical night skies!
You can see more of my astrophotography on my Instagram account @kevin-ferrioli
Stargazing is for everyone, here's how to get started.
Mary McIntyre guides you though the process on how to take these incredible photos.
Learn how to photograph the night sky, online tutorials and Dorset workshops.
What does your Dorset look like? Adventures on our epic coastline? Visiting attractions with family? A walk through the beautiful countryside? Or perhaps a chilled out evening eating and drinking with friends? Discover a sample of your #VisitDorset images below and share your love for Dorset using the hashtag on Instagram.