Astrophotography
Ollie Taylor
My journey to become astrophotographer and nightscape photographer
I first got hooked on night photography during a trip to Iceland in 2010. I'd enjoyed landscape photography for many years but on returning home to Dorset I practiced every night possible and a few years later quit work and set up the first dedicated, structured landscape astrophotography workshops in Europe for photographers of all skill levels.
Since then the workshops have evolved and are now run in some of the most renowned astrophotography locations in the world to include the Canary Islands and Chile, but Dorset has not been left out, as it is undoubtedly amongst the best locations in Europe to photograph the Core of the Milky Way (the centre of our galaxy).  Dorset's Jurassic Coast makes amazing seascapes and these can be coupled with the night sky to produce striking nightscape imagery; therefore I still run multiple Dorset workshops each year, predominantly aimed at beginners to nightscape photography.
Freelance projects
It is not easy to freelance as an astrophotographer, commissions and assignments have to be carefully thought out or you end up running on sleep deprivation all the time, it took a few years for me to get this right and quote clients correctly and make them extend deadlines to allow movement between hotel, location, and still manage to sleep between shoots through the day, but it has taken me across Europe, for months and months on end as I worked assignment and squeezed workshops in-between. 
As landscape astrophotography nightscape photography was so niche when I started producing this type of imagery, I was approached buy multiple titles and featured regularly in pretty much every photography magazine on the shelf, alongside multiple astronomy titles, and major tiles such as Natgeo, New Scientist, worked with the BBC and multiple tabloids across the globe as well as brands such as Nikon, Panasonic Lumix, Huawei, Benro, Nite, Peli and Haida to name a few.
What continues to motivate me are those amazing moments when being outside all night enables me to capture the unexpected, such as the Aurora, visible here in Dorset, photographed back in 2015.

Dorset Aurora and the Milky Way and Andromeda galaxies - Ollie Taylor
Top tips - equipment needed
Getting started in astrophotography has never been easier, a decade ago it was very hard to achieve anything with certain cameras, and you needed to invest a small fortune for top notch equipment. 
Times have changed, and so has tech, entry level cameras now have unbelievable low light capabilities, as long as you have a lens that has a window on from which you can see where infinity focus is (i.e not a barrel focus lens), or your LCD displays it, you can achieve nightscape/landscape astrophotography, Milky Way images with entry level kit.
Naturally a sturdy tripod is essential,
A remote control or in camera timer is helpful
Be warned though, it's addictive, and unfortunately can get expensive as you get suckered in and the "want" or "need" list of equipment grows and grows as you look to advance your skills and imagery.
There are now apps such as Stellarium and PhotoPills that allow us to plan (we didn't have these in the beginning and planning was a fine art in itself).  Couple these with location knowledge and a light pollution map, and you are on your way to producing some awesome nightscapes.
Location and time of year
Location, orientation, time of year, time of night can be tricky! 
I had a head start having already undertaken near a decade of landscape photography predominantly in the South West of England and the Scottish Highlands, my two most frequented areas for shooting nightscapes, so I had a head start.  Plus living in Dorset, a few miles from the dark area surrounding Portland Bill lighthouse,  and knowing the coastline with spectacular dark areas aided me further.  All I had to do was work out times and orientation as I know the Dorset Coast like the back of my hand, then I progressed to night sky elements other than the Milky Way.
Photographer Kevin Ferroli has provided a head start with some great Dorset locations and tips for times. 
Why choose Dorset?
Dorset is such a great night sky photography location as it is fairly accessible being only a 2.5 hour drive from London, 4 hours from the Midlands, and 2/3 hours from Bristol and Cardiff. 
All photographers have end up with favourite locations, and the more you practice and venture out, the more you will grow to favour one that works for you.
Dorset has Durdle Door, probably one of the most renowned nightscape photography locations in all of Europe, definitely within the UK, but due to its popularity it can get busy, and I favour a few other locations in Dorset such as these time falls at Osmington Mills.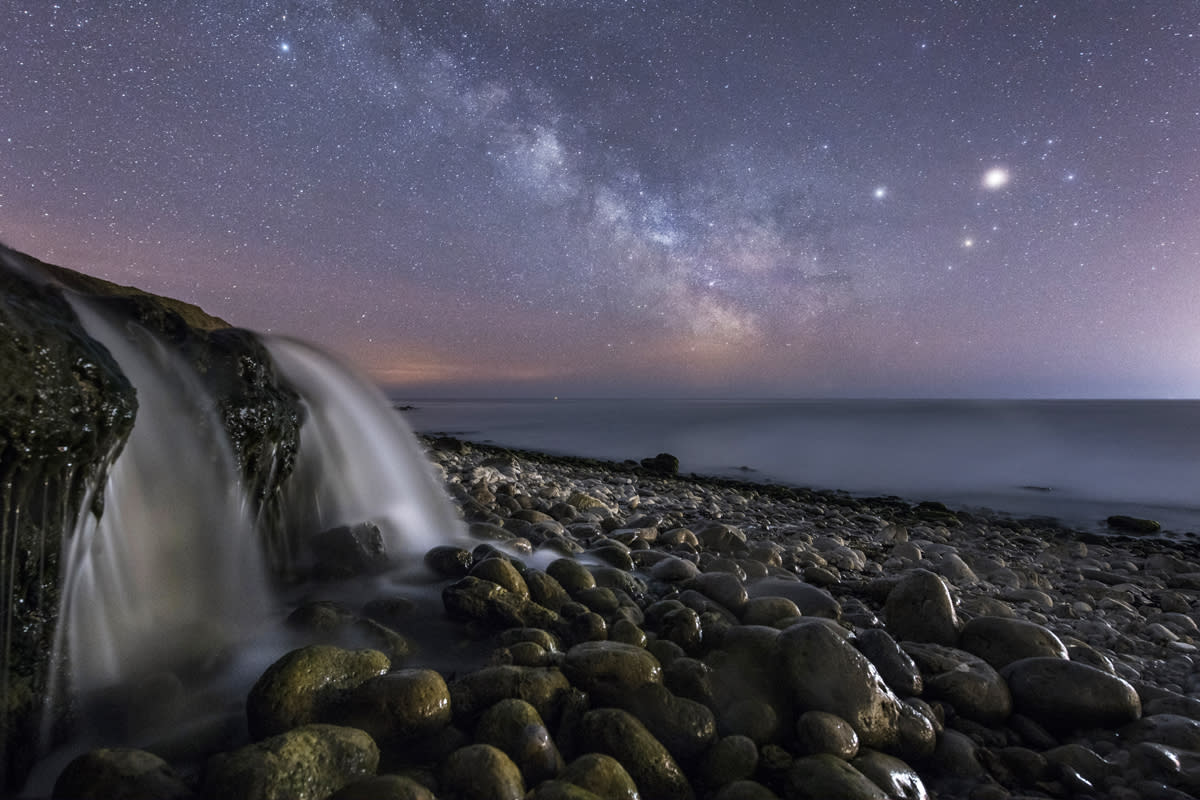 Osmington Mills waterfall and the Milky Way 
I've always tried to create a very "natural style" with regards to my editing of the Milky Way, and how it is shot on location to help achieve this.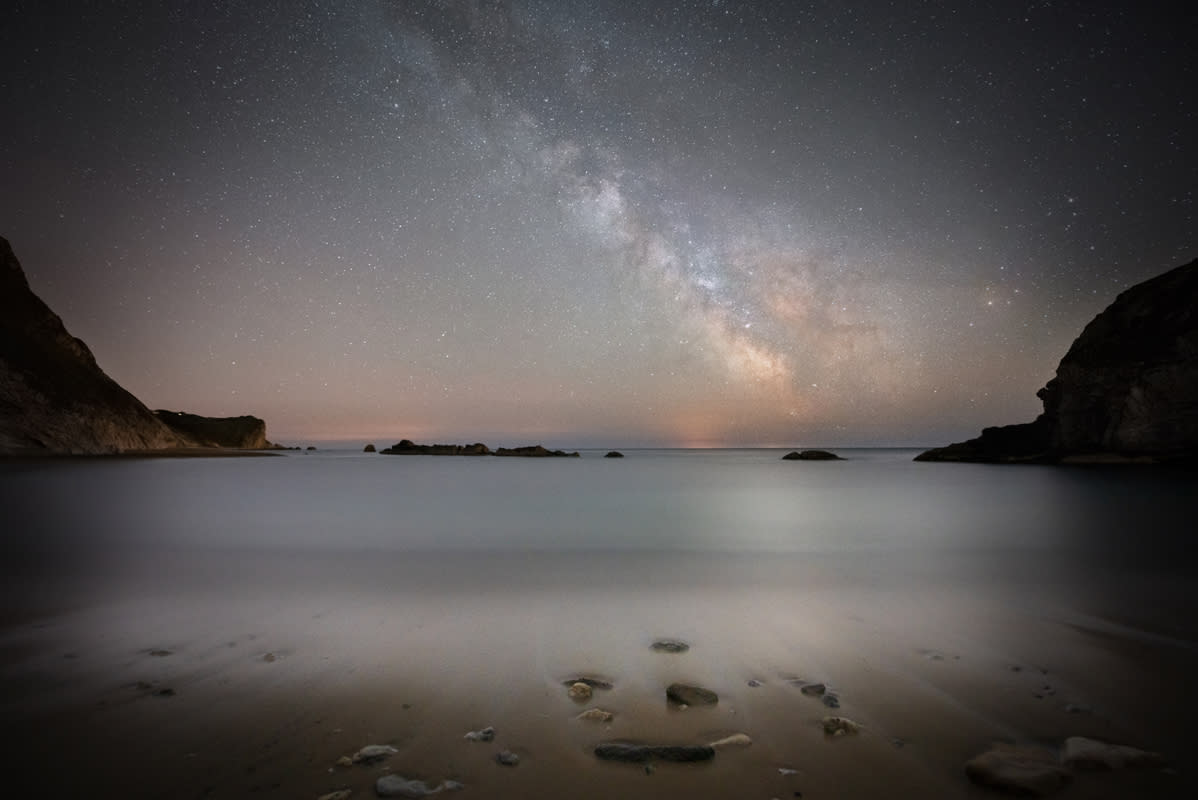 Man 'O' War Bay and the Milky Way
But to push and excel you have to think outside the box as with any genre, start of with the galactic Core of the Milky Way in all its glory!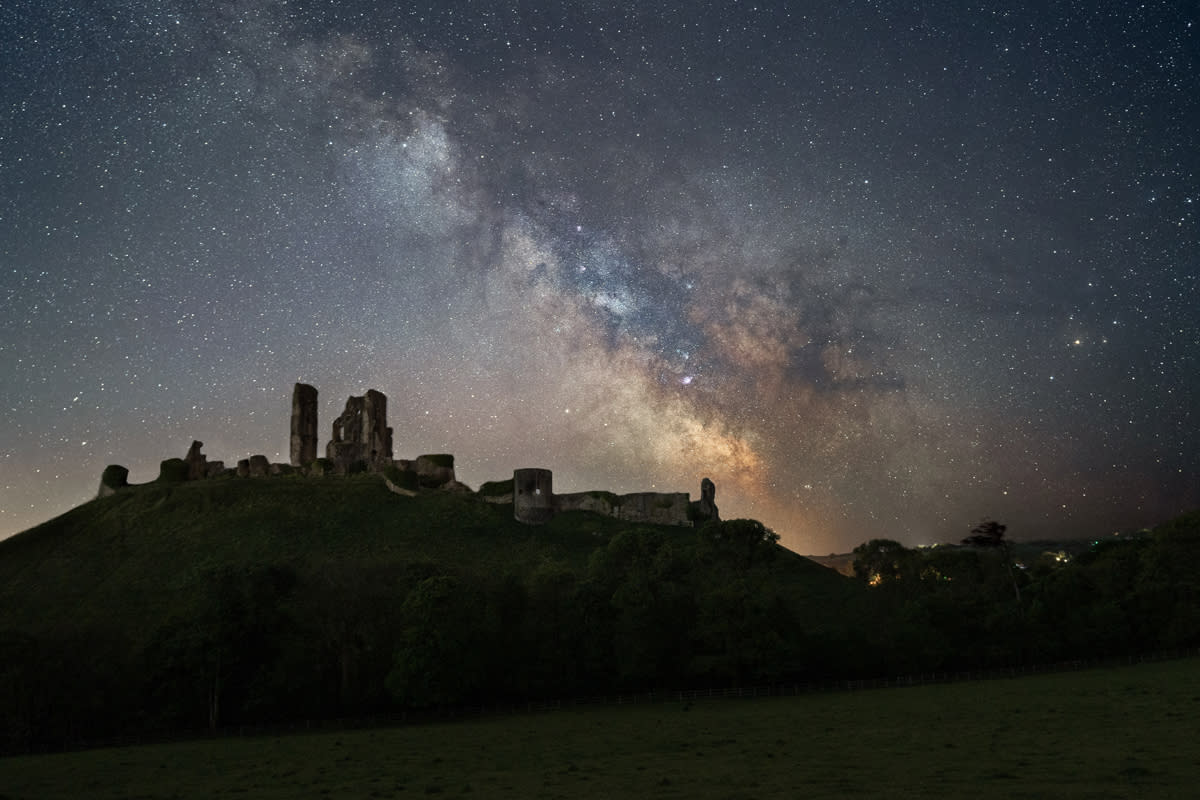 Corfe Castle and the Milky Way 
But work on progressing by using longer focal lengths, like this image of Corfe Castle with the core of the galaxy emphasised and the Lagoon Nebula extremely clear.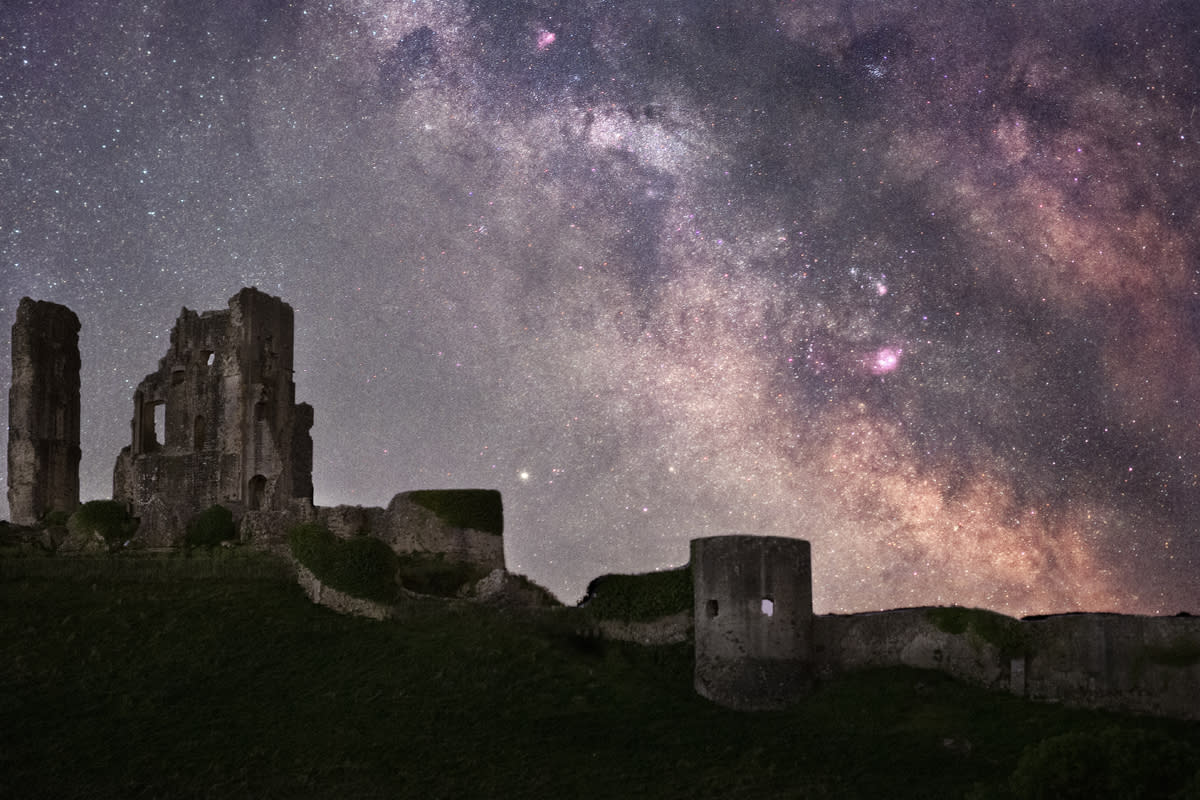 Corfe Castle close up showing the Lagoon Nebula 
And frequent the same location trying new and other techniques, don't be afraid to use he moonlight!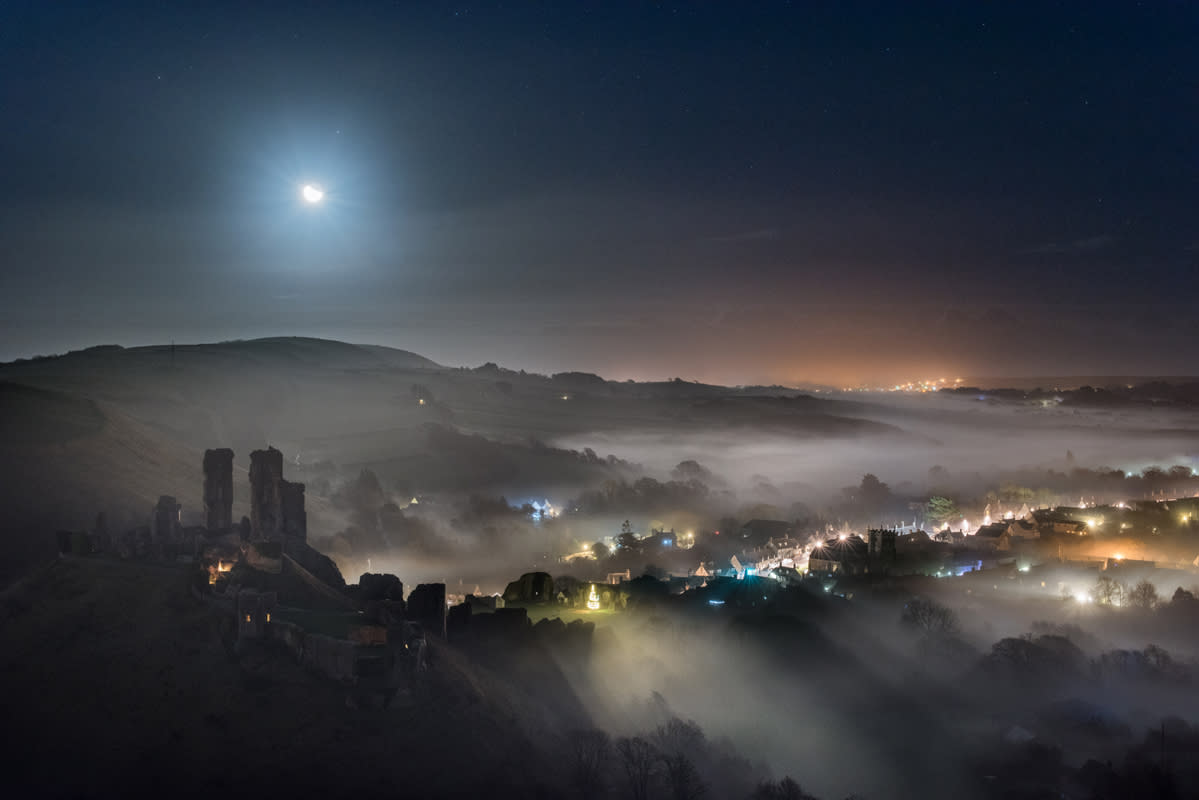 Corfe Castle in the moonlight 
But now, I think I get the most enjoyment out of teaching others and seeing their enjoyment when they first produce that killer Milky Way image; I don't think it would have ever been possible for me to start out if I hadn't lived in a dark sky area of Dorset with the counties dark sky locations providing a platform for me to launch my business.
To keep up with Dorset, South West England, Scottish Highlands and wider global workshops check out my website workshop page.
Ollie Taylor  Astrophotographer and Photography Tutorial Creator
Learn how to photograph the night sky, online tutorials and Dorset workshops.
Mary McIntyre guides you though the process on how to take these incredible photos.
Astrophotographer Kevin Ferrioli shares his favourite Dorset locations and the best time of year to capture great...
What does your Dorset look like? Adventures on our epic coastline? Visiting attractions with family? A walk through the beautiful countryside? Or perhaps a chilled out evening eating and drinking with friends? Discover a sample of your #VisitDorset images below and share your love for Dorset using the hashtag on Instagram.