Hello, I'm Richie, a Dorset based walker, wanderer, photography enthusiast, content creator and an outdoors soul. I love to showcase my adventures through my Instagram account - Richie's Incredible Britain - and have teamed up with Visit Dorset to share some of my favourite local places.
Weymouth is one of the most popular seaside resorts along the South Coast of Great Britain. A bustling and vibrant harbour town attracts tens of thousands of visitors every year, thanks to it's sandy beach, warm shallow waters and a lively seafront. It makes for a perfect family holiday destination with all the arcades and amusements, ice cream parlours and fudge shops – plenty of choice for recreation on the civilized side of things. But what about those who want to see the wild side of Weymouth and Portland?
Could you leave the civilized world behind for a day or two and embark on a journey to discover rare birds, reptiles and plant species unique to this part of the world? Could you witness millions of years of Earth's history unravel before your eyes? You have definitely come to the right place! Allow me to introduce you to the Legacy Trail - 13 miles of wildflower meadows and woodland paths, marshes and wetlands, rocky coastline and inviting beaches – all that and much more only a short stroll away from the comfort of the town centre and all of it's amenities.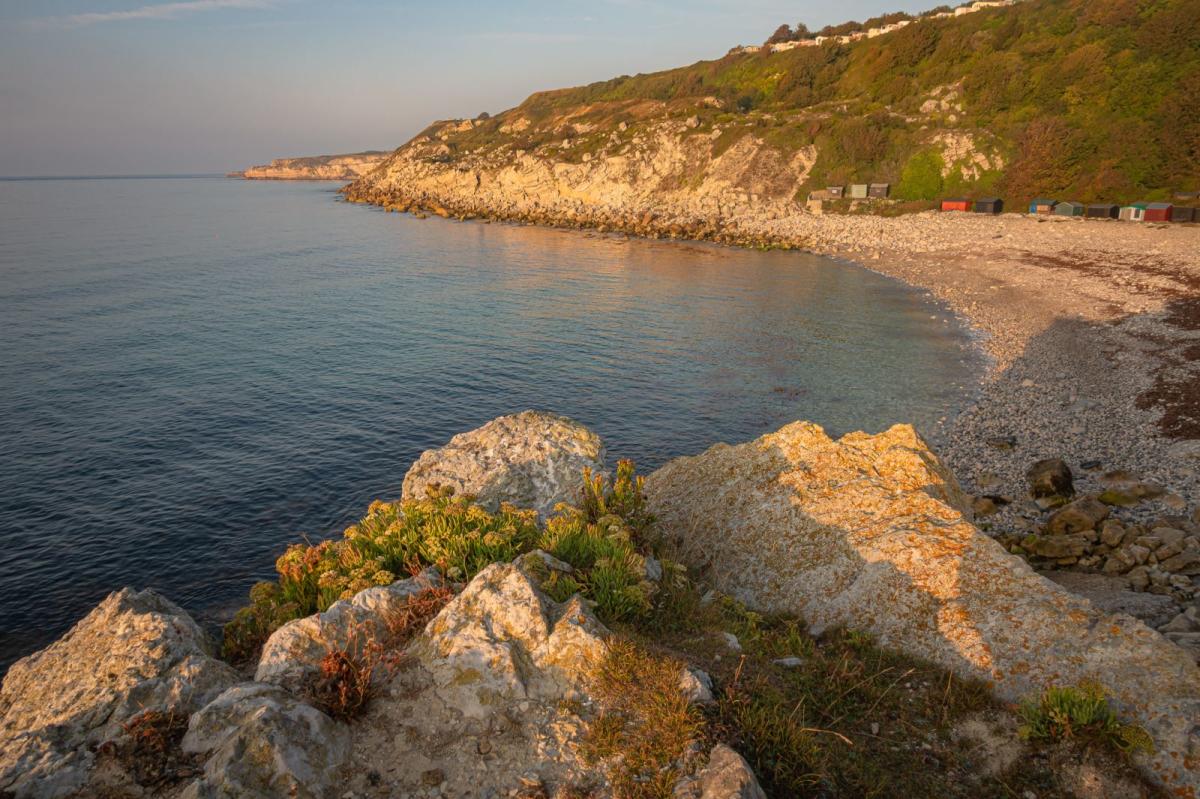 Church Ope Cove on the Isle of Portland © Richie's Incredible Britain
The Legacy Trail is made up of 10 waypoints connected by a network of easily accessible and well maintained paths. It starts at Lorton Meadows conservation Centre and finishes at Portland Bill lighthouse. Below you'll find a brief description of each section of the trail. The full length of it can be completed in a day by a capable walker, or you can split it into as many parts as it is convenient and desirable. So let's pack our daypack, put those comfy walking shoes on and get started with the walk. Do look out for a set of unique stone waymarkers along the way offering a wealth of information about all the interesting wild things you may encounter on your adventure!
Section 1: Lorton Meadows
The walk starts from Lorton Meadows Conservation Centre and takes you through a natural landscape of grassland, woodland and wetlands, rich in wildlife and open to all. This stretch offers some fine views down to the valley and across Weymouth bay to Portland. Hard to believe this wildlife sanctuary is so close to town and public transport links! There is an extensive network of footpaths in the Lorton Valley Nature Park for all abilities to immerse in natural world.
Section 2: Lodmoor Nature Reserve
Lodmoor is one of the two RSPB bird reserves in Weymouth. It is a quiet haven for wildlife with a combination of a large reedbed, open water, saltmarsh, wet grassland and bushes attracting a variety of different birds including gulls, ducks, kingfishers and winter waders. Don't forget to bring your binoculars if you want to spot some of those!
Section 3: The Esplanade
Here you come out on the beach and join the South West Coast Path for a stroll along the pleasant Weymouth Esplanade – this section of the Legacy Trail joins wildlife sites of Lodmoor and Radipole Lake reserve. Enjoy the stunning views of the Jurassic Coast, a World Heritage Site, across the bay. The white chalk cliffs gleam beautifully in the sun and there is plenty of benches along the seafront to sit and take in the view!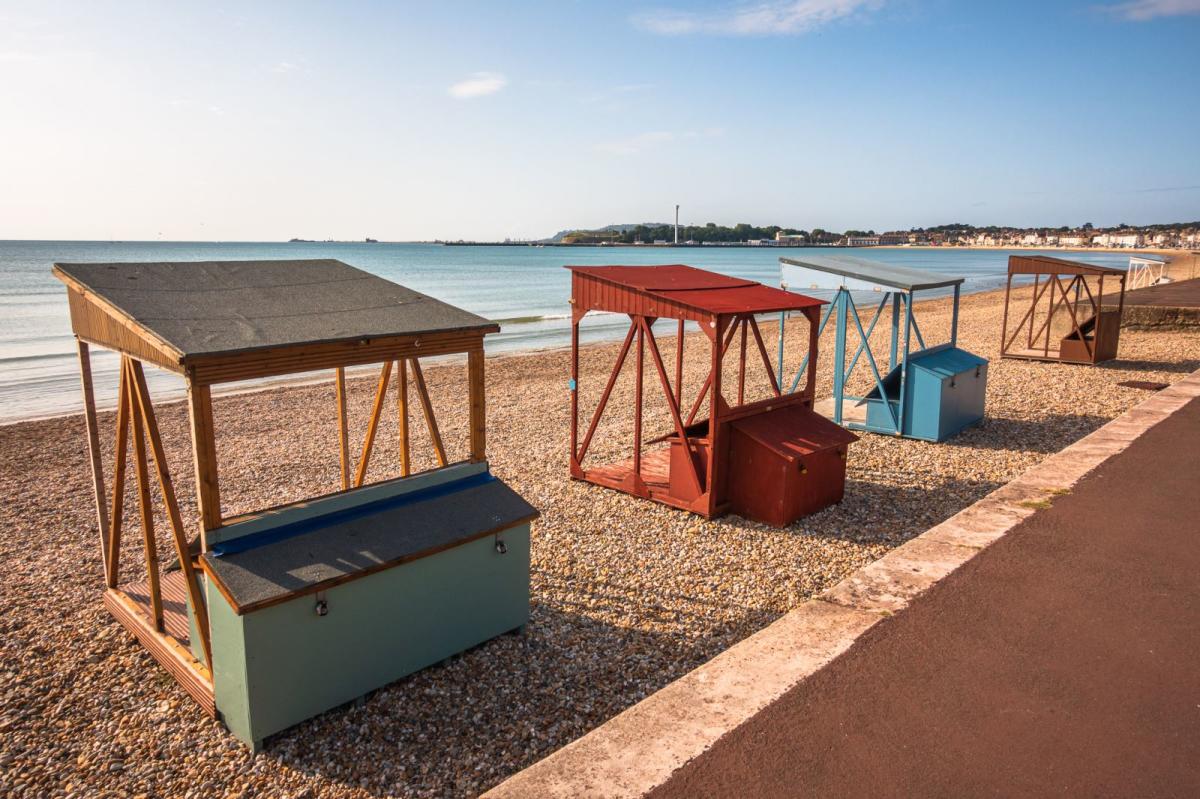 Beach huts on Weymouth Esplanade © Richie's Incredible Britain
Section 4: Radipole Lake
A wildlife oasis in the heart of Weymouth, the reedbeds of Radipole Lake are an unlikely urban home to some stunning wildlife, including fabulous birds and elusive creatures such as otters and water voles. Start your journey at the family-friendly Discovery Centre and have a go at pond dipping.
Section 5: Rodwell Trail 
From Weymouth to Portland, the Legacy Trail follows a disused railway line which takes you past old station platforms and Sandsfoot Castle, built by Henry VIII to defend Weymouth Bay, with lovely views out across Portland Harbour towards Portland. The Rodwell Trail is popular with pedestrians, cyclists and dog walkers and offers a surfaced, pleasant and traffic-free connection between Weymouth Harbour and Portland causeway. from Discovery Centre at Radipole Lake, it is highly recommended to visit Weymouth's colourful harbour and award-winning Nothe Fort and Gardens before starting on the Rodwell trail – it is possible to make a detour to the harbour and gardens and then re-join the Rodwell trail route via the South West Coast Path. All you have to do is keep to the coast!
Picturesque Weymouth Harbour © Richie's Incredible Britain
Section 6: Chesil Beach 
A stunning shingle expanse that is Chesil Beach attracts thousands of visitors every year: at 18 miles long and on average 160m wide it is impossible to miss from the end of Rodwell Trail. A one of a kind landmark in Britain that is rich with history and wildlife, it also connects Weymouth to Portland and allows you to reach Portland by foot, car or bicycle. Don't forget to pop in to Chesil Beach Visitor Centre along the way – the centre offers interactive displays on all aspects of the Fleet Lagoon and Chesil Beach, a small gift shop and a variety of activities for people of all ages.
Section 7: Merchants Incline
From Portland Castle, a yet another coastal fortress built by Henry VIII, it's a steep way up to the top of Portland. This walk follows in the footsteps of the quarrymen and their wagons of stone on the route of the original Merchant's Railway. It was constructed purely to transport stone. From the top, a sweeping view of Chesil Beach, Weymouth and land beyond will take your breath away. Continue along the old railway line through Verne local nature reserve and into the quarries.
Section 8: Portland Quarries 
The famous Portland stone has been quarried on the island for centuries – removal of tens of thousands of tonnes of rock created a truly remarkable and fascinating landscape of tunnels, gullies and stone walls, which has now been reclaimed by the nature. It welcomes visitors wanting to experience the quarrying past and enjoy an abundance of unique and special wildlife which lives here, including plants and butterflies that are only found on Portland. The trail follows a route through Kings Barrow quarry, but a visit to nearby Tout Quarry is strongly recommended to discover it's 50+ stone sculptures carved into the landscape by artists from all over the world. Download a map to help you find them all!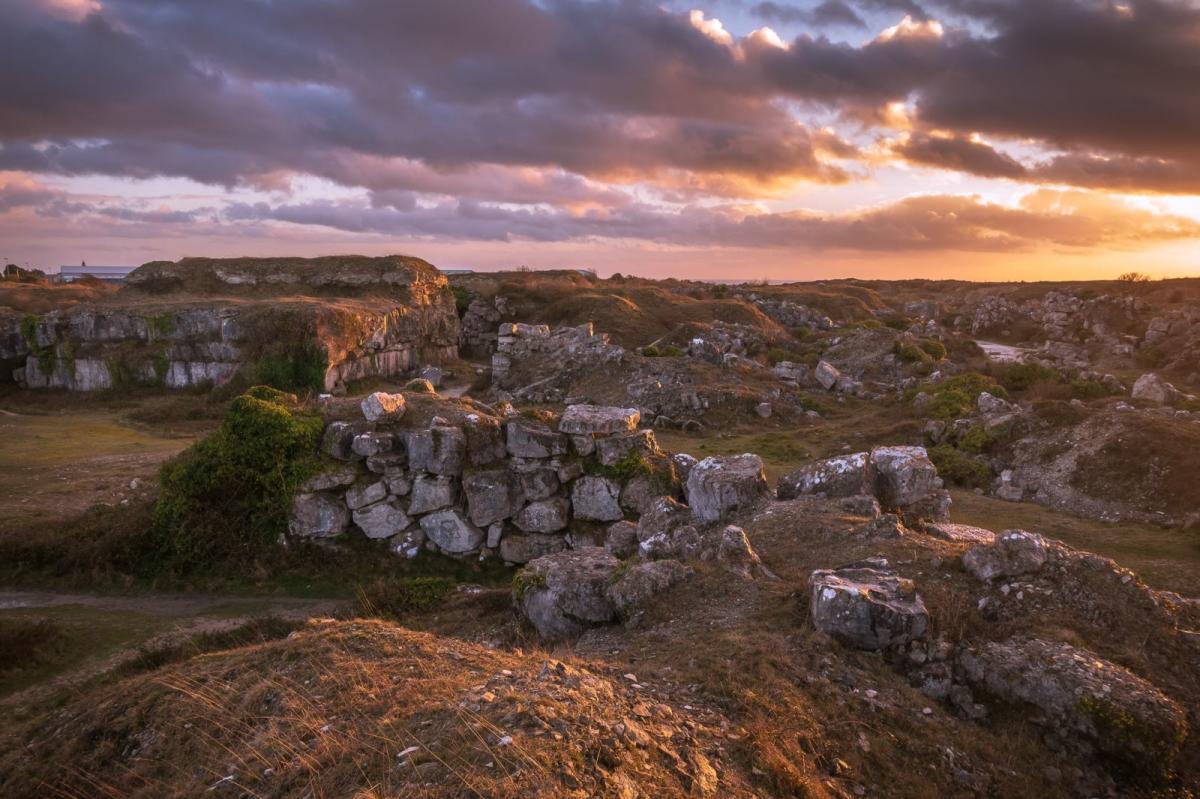 Discover many sculptures at Tout Quarry © Richie's Incredible Britain
Section 9: Church Ope Cove
From the quarries, the route descends to the real wilderness of Portland – the East Weares. A result of hundreds of thousands of tonnes of stone and rubble being tipped over the clifftops, it's a wild and unspoilt place nowadays, with nature having reclaimed most of the coastline here. The trail follows the tracks of a disused passenger railway with cliffs on one side and verdant coast on the other. Soon you'll reach a viewing platform with the sight of Church Ope Cove below – a tranquil rocky beach dotted with colourful chalets, sheltered from winds by cliffs and lush vegetation. Overlooking the Cove is Rufus Castle – a 15th century fortification. Walk under the footbridge to take a footpath to the Portland Museum to learn more about the island's history.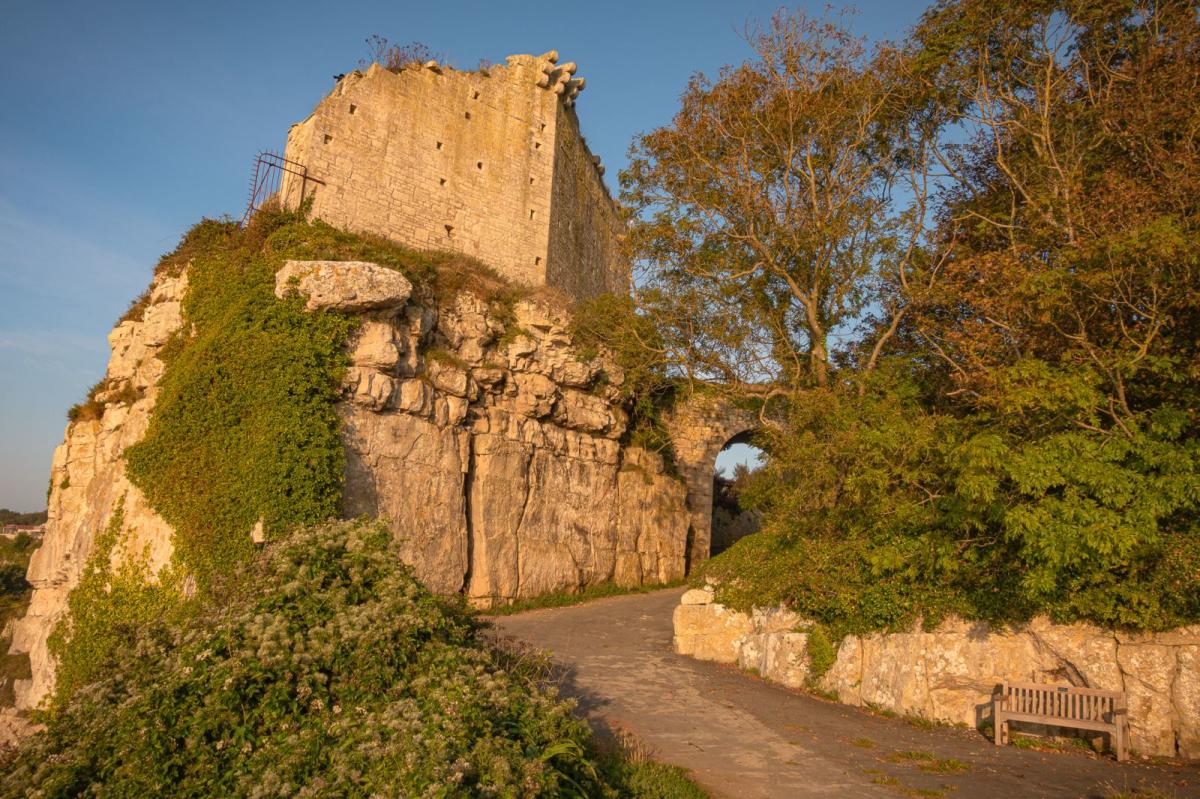 Rufus Castle © Richie's Incredible Britain
Section 10. Portland Bill
From Church Ope Cove, the trail follows the coast to the southern tip of Portland with it's three lighthouses. The route passes a number of tiny coves, sea caves and old cranes called "Derricks" used to pile the stone onto the boats back in the quarrying days. Portland Bill lighthouse, the tallest and newest of the three, is seen in the distance. Explore the rocky coastline at the end of the trail to discover fossil imprints in the stone, watch the caves crash and climb the lighthouse to see for miles along the beautiful Dorset Coastline, the world famous Jurassic Coast and out to the treacherous Portland Race. Portland Bill is a great place to spot and watch seabirds, and even dolphins are often seen in the water.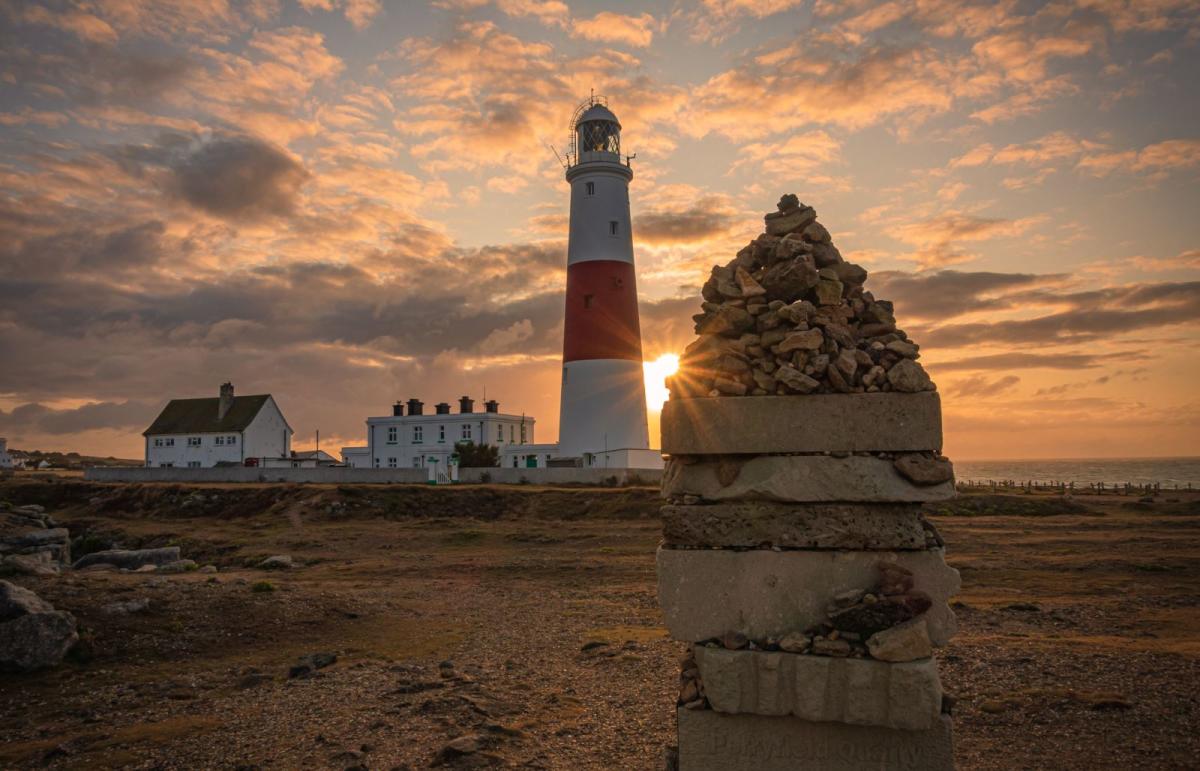 The iconic Portland Bill Lighthouse © Richie's Incredible Britain