If you want to explore Dorset's wonderful countryside and enjoy a day out without your car, we've picked out a great selection of walks which start from towns with railway stations.
White Hart Link
The White Hart Link connects the five north Dorset towns of Gillingham, Shaftesbury, Blandford Forum, Sturminster Newton and Stalbridge. It is a signposted route and can be walked it either direction, with the whole trail being 50 miles (80km) in total, but split into shorter sections for day walks.
The following suggested walks travels for 6.5 miles (10.5km) from Gillingham to Shaftesbury, returning by bus.
From Gillingham Train Station, it is just ¼ mile (0.4km) to join the White Hart Link heading towards Shaftesbury. After 3 miles (5km) you'll pass through the village of Motcombe and you might take the opportunity to stop at The Coppleridge Inn for something to eat or drink. Continue along the route for another 3.5 miles (5.5km) before reaching Shaftesbury – Dorset's highest town. If you have time, explore the town's museums, shops and the famous Gold Hill.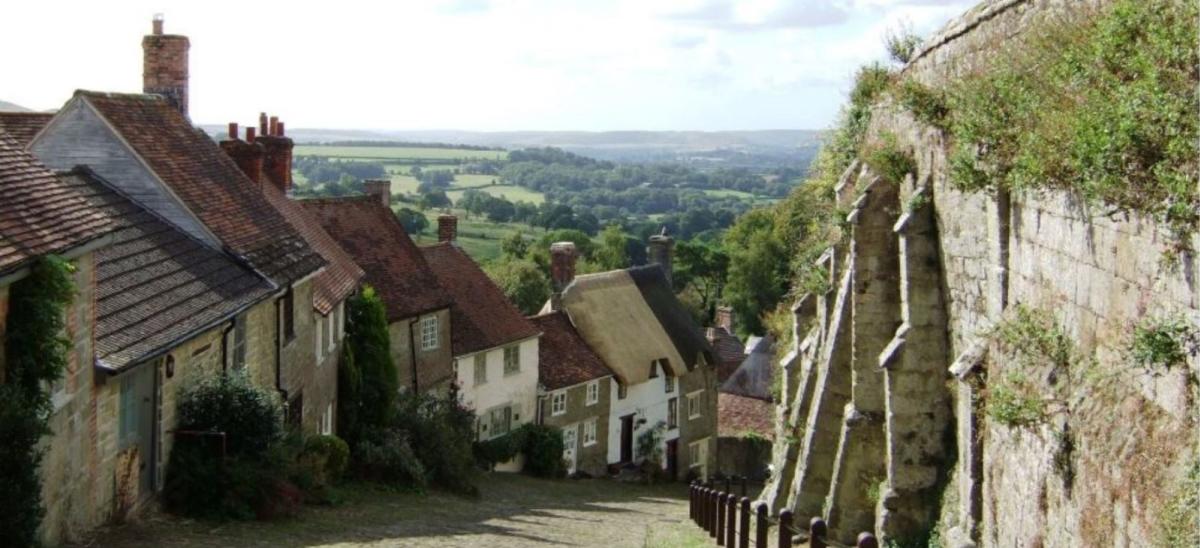 Photo: Gold Hill in Shaftesbury
To return to Gillingham, catch the bus from Shaftesbury Town Hall to Gillingham Station with South West Coaches bus number 2.
You can find detailed route maps and GPX downloads on the White Hart Link website.
The Macmillan Way
The Macmillan Way is a long-distance trail which links up with 3 of Dorset's railway stations.
Starting at the beautiful town of Sherborne, follow the route south west to the village of Yetminster for 5.5 miles (9km). You could either stop for something to eat or drink at The White Hart pub or hop back on the train from Yetminster Station to Sherborne where there is a large selection of cafes, restaurants and pubs.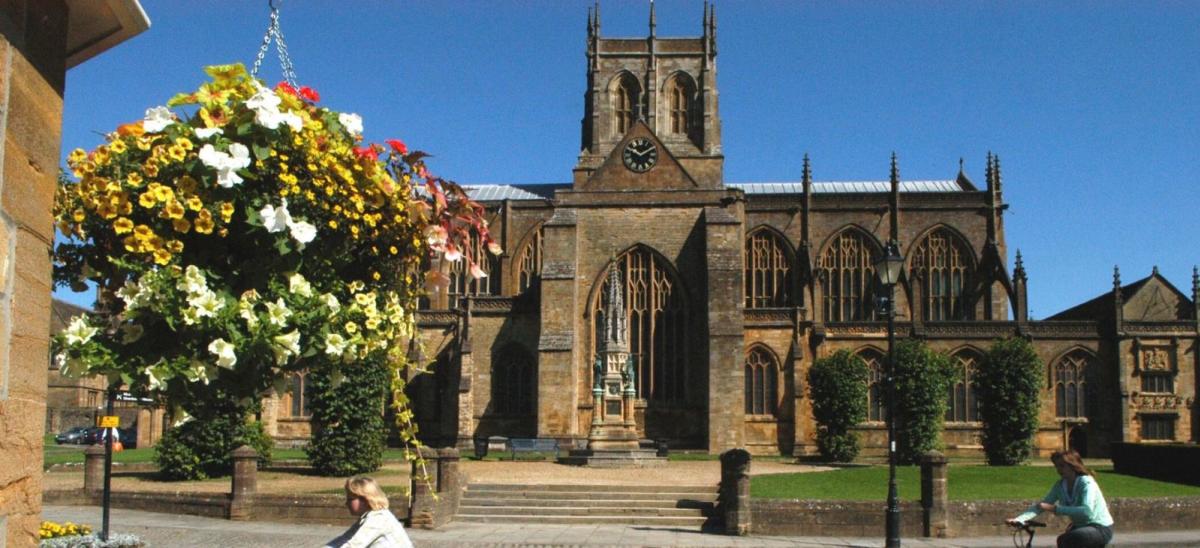 Photo: Sherborne Abbey
The route is shown on Ordnance Survey map Explorer 129 (Yeovil and Sherborne) and there is also a guidebook available to purchase from The Macmillan Way website.
The whole of The Macmillan Way is 290 miles (467km) from Boston in Lincolnshire to the Jurassic Coast at Abbotsbury in Dorset.
Purbeck Way
Linking the market town of Wareham to Ballard Down and Worth Matravers via Corfe Castle, there are lots of options for day walks along the Purbeck Way.
For option 1, you could start your walk at Wareham Quay (a 1 mile/1.6km walk from Wareham Train Station) and head towards the picturesque village of Corfe Castle for 6 miles. There's plenty of choice for places to eat at both Corfe Castle and Wareham. To return, you can either catch a bus directly to Wareham Railway Station, or until the 9th September 2023, there is a train service between Corfe Castle and Wareham provided by Swanage Railway.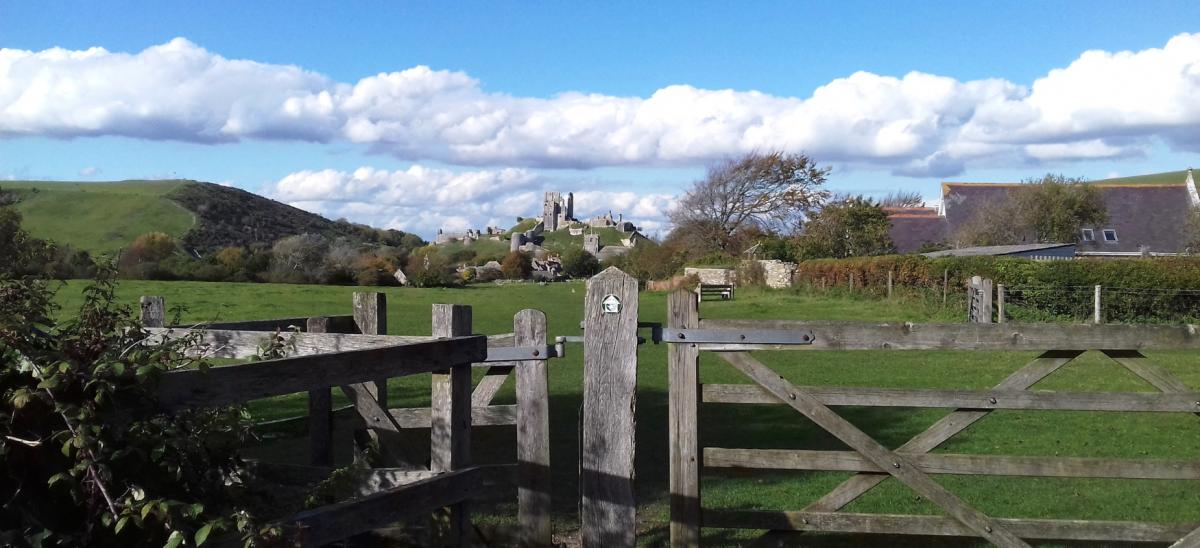 Photo: The Purbeck Way walking route at Corfe Castle
Your second option is to travel by train (available until 9th September 2023) to Corfe Castle. Then follow the Purbeck Way for 9 miles (14.5km) along the Purbeck Ridge to Ballard Down to join with the South West Coast Path down in Swanage. Return to Corfe Castle by bus or train.
The Purbeck Way route is shown on Ordnance Survey map Explorer map No.OL15 (Purbeck and South Dorset).
Thomas Hardy's Cottage
The county town of Dorchester has two train stations – Dorchester South and Dorchester West. Both of which are a short walk away from the start of this 7 mile (11km) circular walking route.
The route follows many places associated with the famous poet and author Thomas Hardy, including his birthplace set within Thorncombe Wood nature reserve.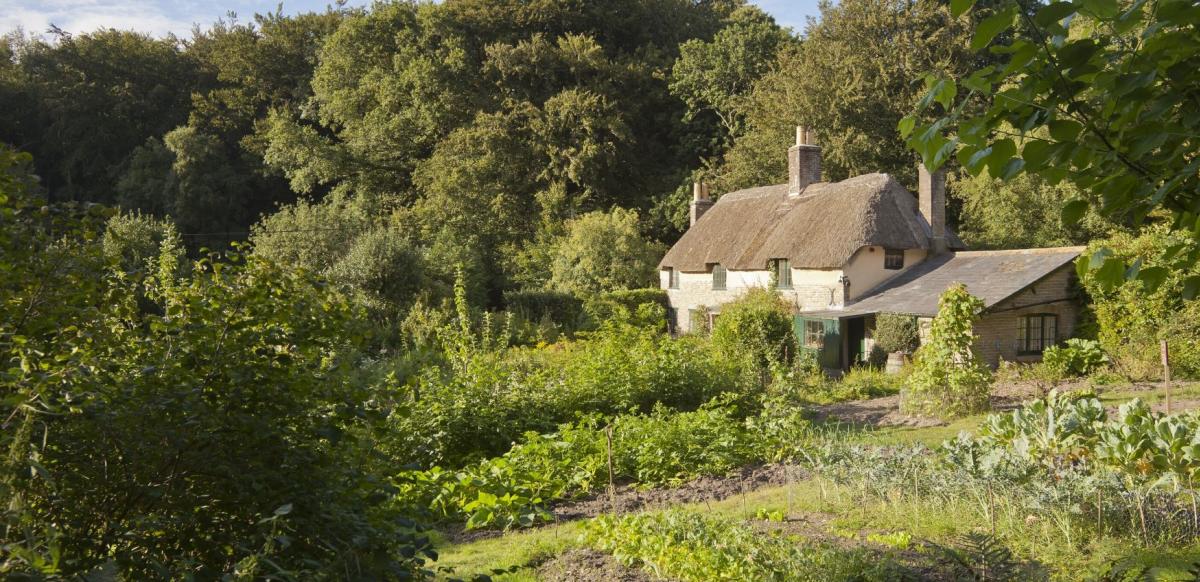 Thomas Hardy's Cottage © National Trust Images
Much of the route would have been walked by the great writer and would be used as settings and inspiration for many of his works.
Entry to Hardy's Cottage (now owned by the National Trust) is by guided tour only at certain times of the year, but there is also a Visitor Centre where you can learn more about Hardy and stop for refreshments at Under The Greenwood Tree café.
Herston to Durlston Walkabout
This 3 mile (5km) walk starts at Herston Halt railway station.
Herston is one of 5 stations along the Swanage Railway heritage line connecting Swanage to Norden via Corfe Castle. When getting on the train, make sure you tell the guard that you want to get off at Herston Halt, otherwise the train will not stop!
From the station, this gentle route passes through the village of Herston and then travels along the ancient Priest's Way towards Swanage and finishes at Durlston Country Park.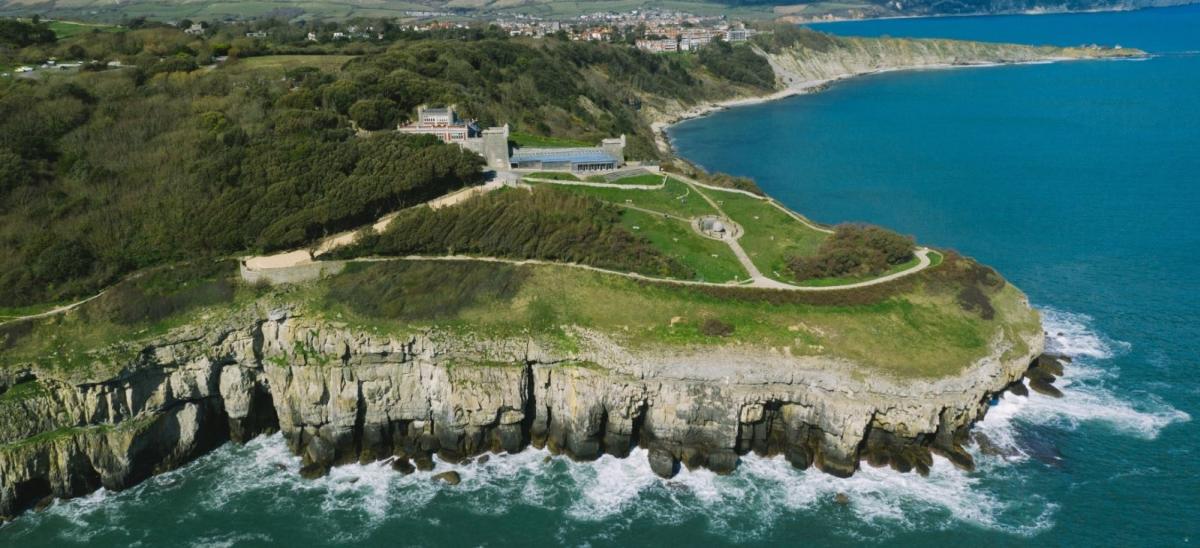 Photo: Durlston Country Park
There is lots to see and do at the Country Park including Durlston Castle and Seventhwave Café with stunning views of the Jurassic Coast. Entry to the country park and castle is free.
To return to Herston Halt, follow the South West Coast Path national trail for 2 miles (3km) into Swanage town centre where you can catch a train from the railway station to Herston.