I'm Dylan, a miniature schnauzer, and I moved to beautiful rural Dorset from West Sussex when I was 9 weeks old. I'm told I'm probably the most handsome dog in Dorset and who am I to argue?
I love getting out and about in Dorset; anything that involves walking, sniffing, running, meeting people or other dogs get a paws up from me.
October has been one of my favourite months so far, partly because it's my birthday month and I had a party with my siblings to celebrate, but also because I love the cooler, sunny days. I go out walking every day, but some walks are more special than others and these were this month's highlights…
Sherborne Castle
One of my favourite places to walk! It's very close to where my owners and I live, so we have a season ticket and go several times a week. Sometimes there are lots of people and dogs to meet, other times it feels like I have the place to myself and once I got mixed up in a wedding, but that's another story…
Even though I'm a regular visitor, I can barely contain my excitement as we drive through the gates waving our pass at the nice lady in the ticket hut. By the time we park the car in front of the Castle, I am usually squealing with anticipation and everyone around is looking at me.
Our usual route follows the footpath around the west side of the lake, through the maple glade and on to Raleigh's Seat, then past the stone dog to the Cascade.
Just a bit further round we stop and admire the view back to the Castle across the lake. There's a perfectly positioned 'posing platform', ideal for a 'sit and stay' photo opportunity! Well, I'll do almost anything for a treat…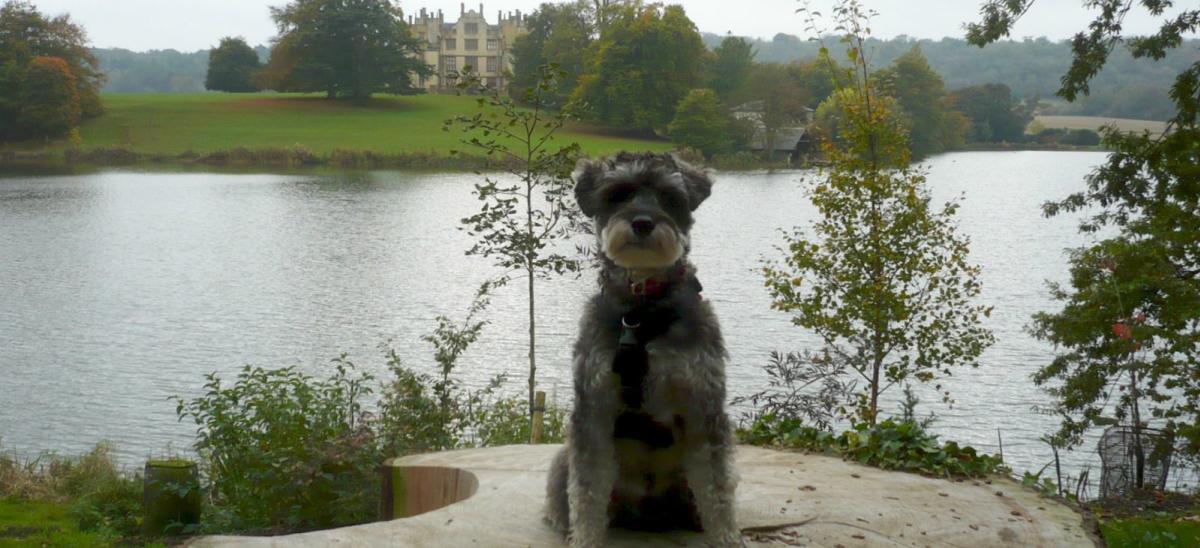 After continuing on the footpath and peeking through the railings to the Old Castle, we head back to our favourite bench for a rest. There's a great view across the lake to the Castle from here, though I am usually too busy sniffing and foraging to notice. I just know that if I sit still at least for a little while to let others admire the view I get another treat!
Heading back round the lake towards the Orangery, Boathouse and Tea Room, we give the ducks and other water fowl a wide berth, though given half a chance I'd love to chase them and see them splash into the water.
Finally we walk around the East lawn back to the front of the Castle and the car. Lovely. Now time for a snooze…
Minterne Gardens
This month I've also been to Minterne Himalayan Gardens, between Sherborne and Dorchester. I hadn't been there before, but I hope I'll go again soon! The car park was right opposite the entrance, so we were in the gardens in no time and walked past the beautiful house to the start of the trail.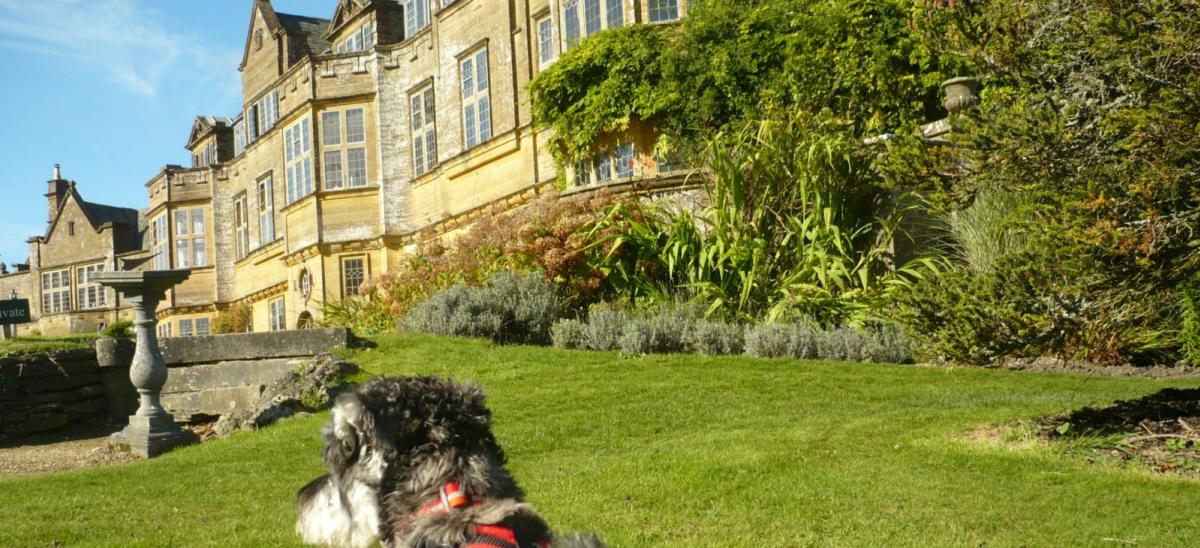 We walked through the woodland garden, stopping for some 'quiet contemplation' in the new Himalayan Hut. There was a lovely view across the parkland, where I could spy some sheep!
Then there were streams and waterfalls, but I kept my distance as I'm not a big fan of water in general, though there were some new scents at the edge to keep me entertained.
As we continued on our way, pheasants popped out from under the bushes and ran across the path right in front of me. Fortunately I was on the lead – I'm fairly well behaved, but a little chase may have been hard to resist!
Finally, we emerged from the trail into the beautiful parkland and stopped to admire the view.
I wanted to go on to the terrace for some light refreshment, but we didn't stop on this occasion and I was so thirsty by the time I got home! Next time…
Check out our dog friendly pages for lots more information about visiting Dorset with your dog.