Boasting some of Britain's best scenery and weather, what better way to experience Dorset than with a holiday in the great outdoors? Glamping offers a truly unique experience and combines the comforts of home while getting you closer to nature. We've pulled together some of our favourite reasons to go glamping this year - and why you should too! Find out more below.
1. All the fun, without the fuss
While we're big fans of camping, it's not everybody's cup of tea. First of all, you've got to buy or borrow all the gear, from air beds to tent pegs and torches, the packing list for a quick camping trip can easily become overwhelming. Glamping offers the same magical experience of sleeping outdoors, without all the fuss - everything you need is there for you. Just pack up your holiday clothes and a few essentials, and you can hit the road. This also makes glamping well suited to a last minute break, so you can keep an eye on the forecast and dash off at the first sign of a sunny weekend.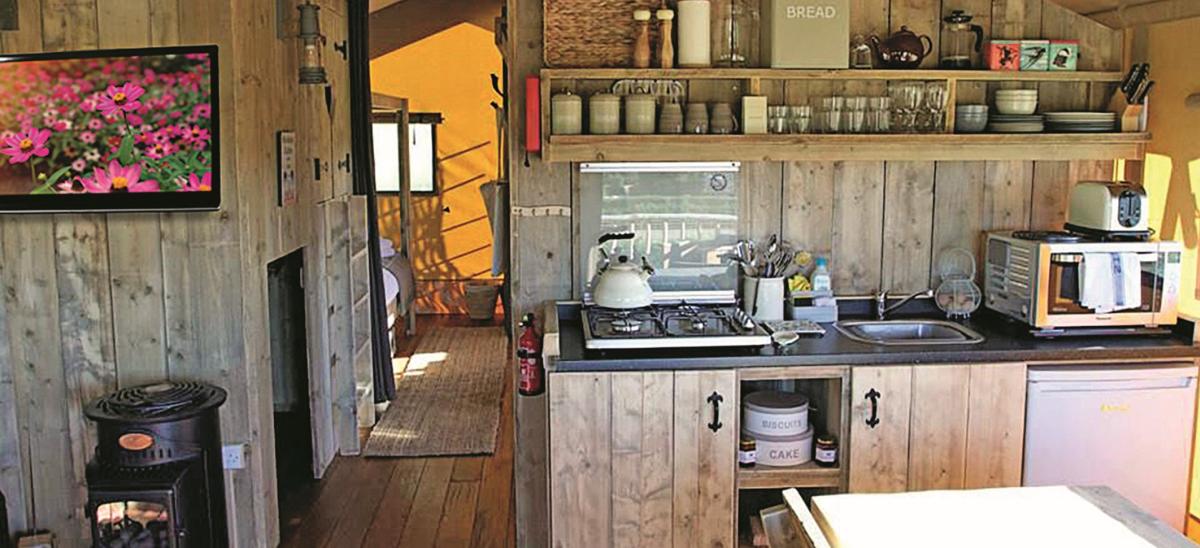 2.Home comforts
While the idea of camping and sleeping outdoors is undoubtedly novel, the lack of mod cons is just too much to bear for some. With glamping, you get the best of both worlds, with all the fun and excitement of camping - without sacrificing any of the comforts at home. Forget rummaging around in the dark or worrying about your phone battery going flat, glamping tents come with electric lights and sockets throughout. Inside you'll find a fully equipped kitchen, including a hob and microwave, bathroom and shower with plenty of hot water and proper beds complete with cosy blankets - providing the perfect place to sleep after a day out exploring Dorset.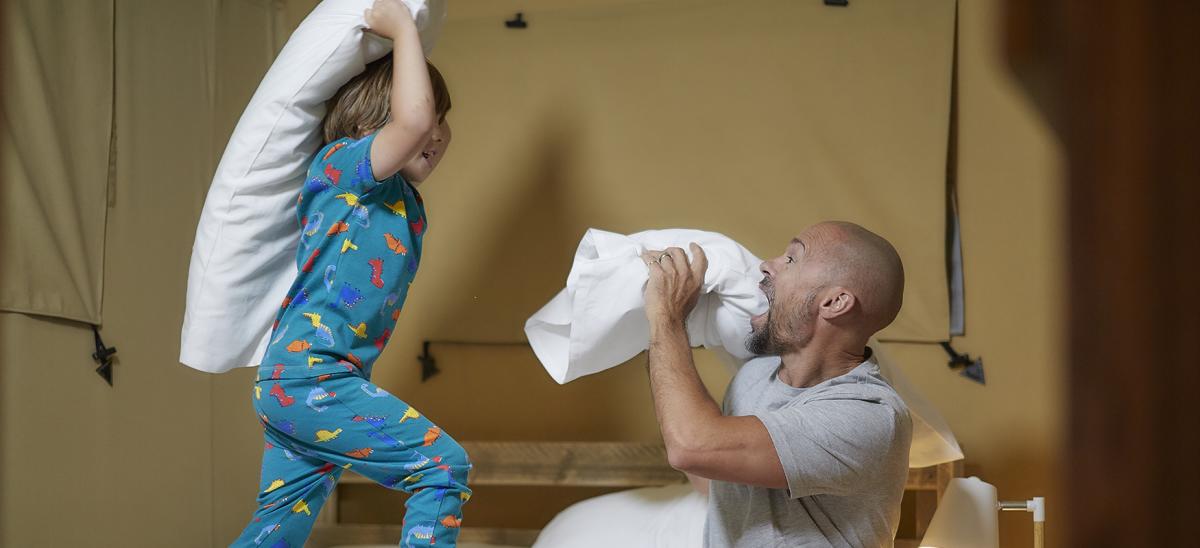 3.Dorset's warmer weather
While you might be brave enough to go glamping on the northern shores of Scotland, Dorset is lucky to be home to some of Britain's best weather - making it the ideal destination choice for an outdoor holiday. In fact, Weymouth is officially one of the UK's sunniest towns, serving up some of the highest numbers of annual sunshine hours. You can expect summer temperatures averaging between 20-25 degrees celsius, perfect for keeping comfortable under the canopy.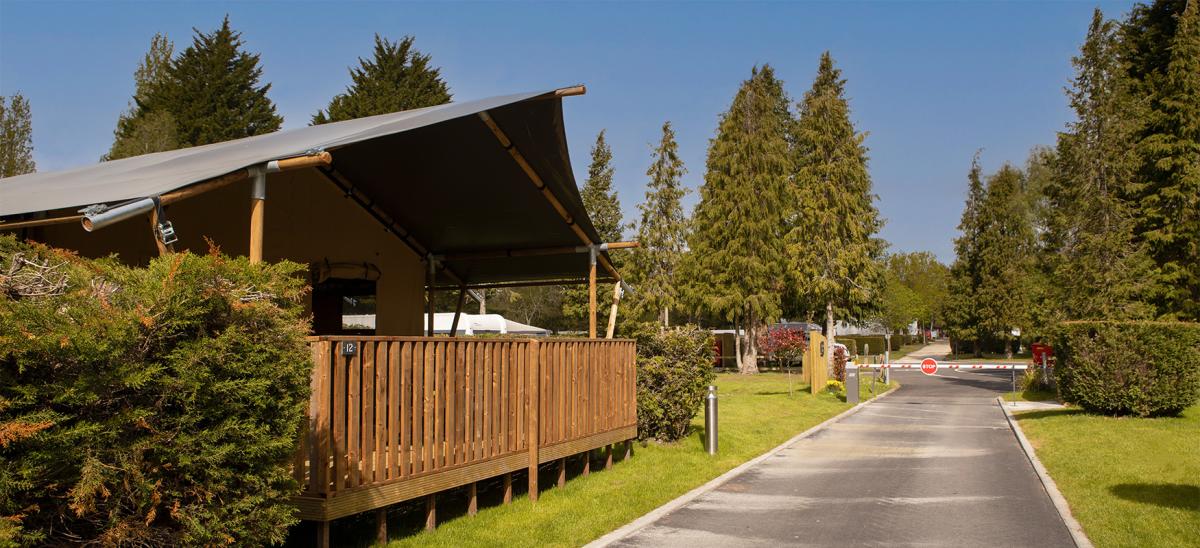 4.Stay in style
Whether you're a TikTok addict, an Instagram enthusiast, or simply just want to treat yourself to an extra chic getaway, glamping offers an undeniably unique aesthetic. With safari-style canvas tents featuring wooden beams and charming verandas, glamping definitely carries the 'cool' factor - and you're guaranteed to get some stylish snaps. It's the perfect treat for a romantic escape or to impress your family and friends with something a little different on your next getaway.
5.Dine al fresco
Glamping tents come with their very own covered veranda. Whether you're enjoying that peaceful first coffee on a dewy morning, a lively dinner with friends or watching the sunset with a glass of wine - it's your accommodation's hub for relaxing and unwinding, whatever the weather. Dorset is also a dream for self-catering holidays. Why not check out some of the local markets and pick up some fantastic fresh local produce to whip up a tasty meal? From local cheeses and breads to some of Britain's best seafood, you'll find it all on your doorstep.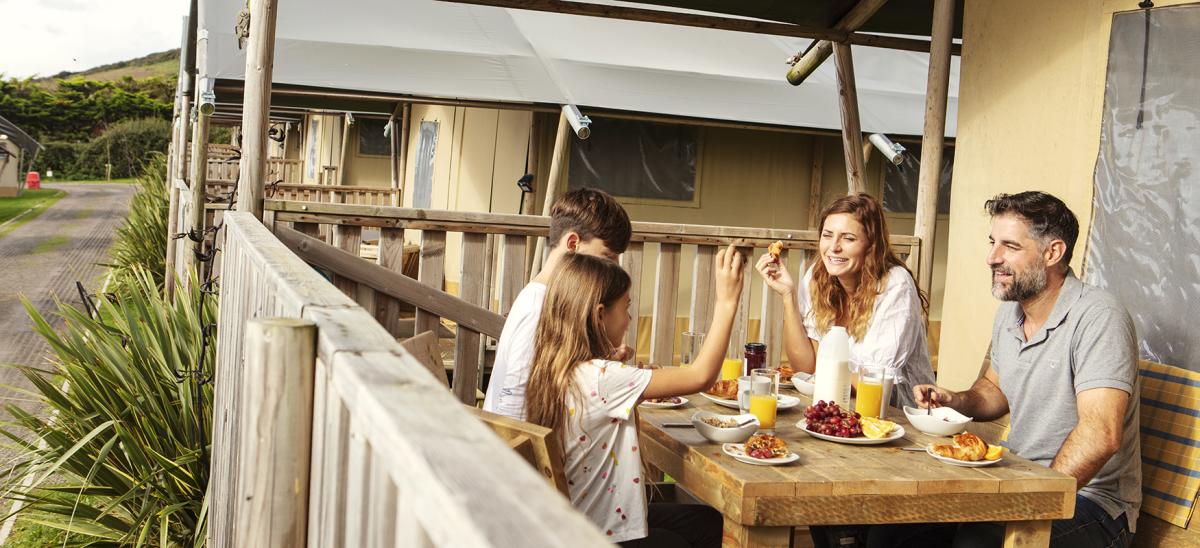 Where to stay
Discover glamping at two of Parkdean Resorts' holiday parks along the Dorset coast. Whichever you choose, you'll find stylish canvas safari-style tents on offer - featuring all the mod cons and home comforts you'd expect. With a fully equipped kitchen, comfortable beds, electric sockets and lights plus a bathroom and shower and your very own veranda - the great outdoors has never been so luxurious!
Check out the new glamping tents at Sandford Holiday Park - ideally located just outside of Poole. When you're not relaxing in style, you'll be within easy reach of some of Dorset's top sights, including bustling Bournemouth, Corfe Castle and Studland Nature Reserve.
Broadchurch fans can immerse themselves in the scenes of the award winning ITV drama with a glamping break at West Bay Holiday Park, just steps from some of the series' most iconic filming locations.