Dylan's Dorset - a dogs view of Dorset's beaches
If you're planning a visit to Dorset with your four-legged friend, spending some time on Dorset's world renowned Jurassic Coast is a must. All along the spectacular coastline are beautiful and easily accessible beaches and best of all, many are dog-friendly year round. So no matter what time of year you choose to visit, your dog will be able to feel the sand beneath their paws.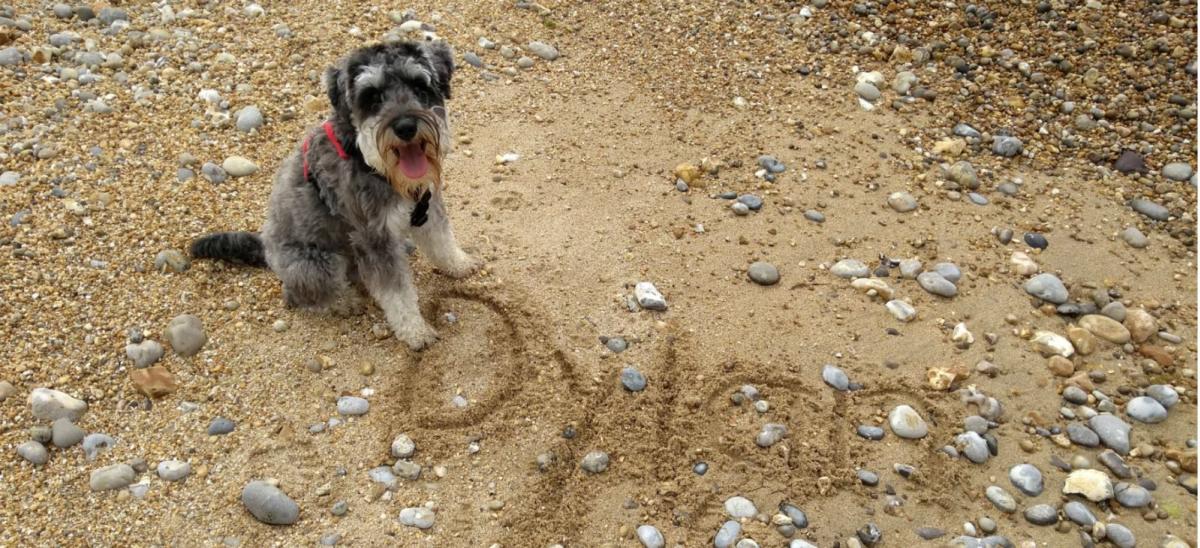 Whether you prefer a quiet spot or a bustling resort, pebbles, shingle or sand, there's sure to be a beach that will suit you. I still have many more to explore, but here are just a few that get my personal bark of approval.
Lyme Regis
There are lots of interesting places to visit in the pretty resort of Lyme Regis and a choice of beaches too! Dogs are welcome to play on Monmouth Beach, East Cliff Beach and Church Cliff Beach all year round; between October and April dogs are allowed on the lead at Front Beach too.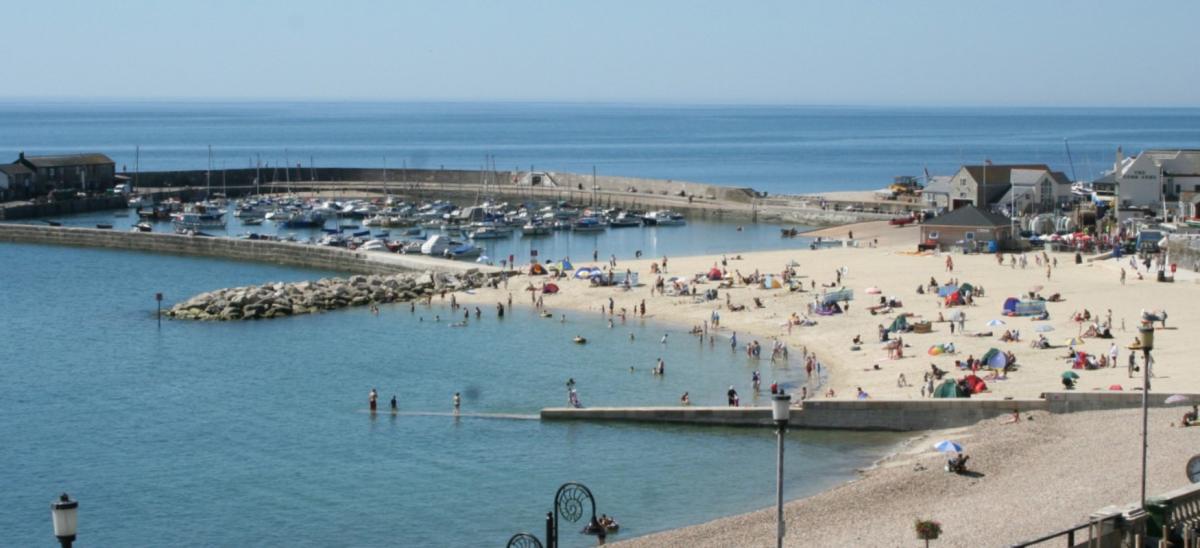 My human usually parks at Charmouth Road Car Park and then we head down the walkway to the seafront and Church Cliff Beach. 
Church Cliff Beach is especially nice for an early morning run, or even a swim if your dog likes that sort of thing. It's sandy in places and is pawfect at low tide when there's an extensive rock ledge with lots of rock pools to investigate! 
Alternatively, you could head over to Monmouth Beach which stretches from the Cobb Harbour to the west, where you and your dog can hunt for some fossils among the pebbles. There's a pay and display car park with direct access to this beach, but it fills up quickly on summer days!
Ringstead
To the east of Weymouth, a small country road off the A353 takes you through Upton village to the car parks at Ringstead Bay.
You can park at the National Trust car park at the top of the hill and follow one of the steep tracks down to the shingle beach or continue to the private car park at the bottom of the hill. Here there's a daily parking charge no matter how long you stay, but with a little shop, café and toilet facilities as well as easy access to the beach and the South West coast path, you can easily spend a good few hours here! Me and my human certainly did.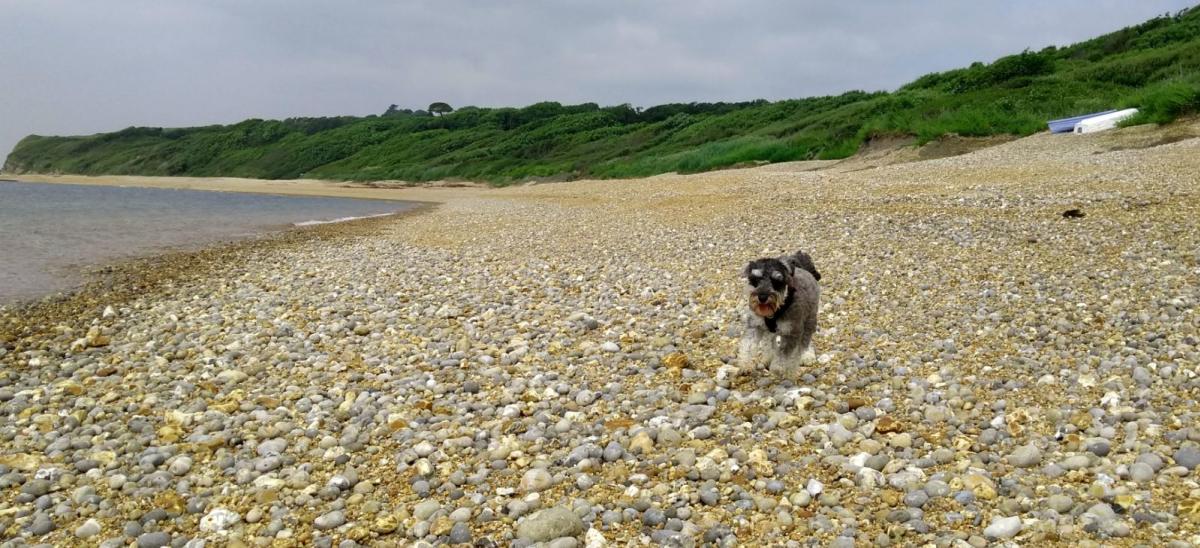 Ringstead Beach is a quiet stretch of the beautiful Jurassic coast with great views across Weymouth Bay to the Isle of Portland. I visited one cloudy Saturday morning in June and almost had the beach to myself! I ran and ran.
If you want to include a walk, head along the coast path to White Nothe, one of the Jurassic Coast's best viewing points.
Burton Bradstock (Hive Beach)
Hive Beach at Burton Bradstock, near Bridport, is one of my favourite beaches because here we often combine two of my favourite pastimes – playing on the beach and eating!
At any time of year, it's a great place to visit. There are some dog restrictions in place in the summer months on the beach area immediately in front of the café, but there's still plenty of beach to the east and west for you and your dog to enjoy.
We usually climb the hill from the National Trust car park for far-reaching views along the coast and then head down to the shingle beach to play. Alternatively you can park at another National Trust car park at Cogden, just east of Burton Bradstock. From there take the footpath across the field to access the dog-friendly Cogden Beach or head along the South West Coast Path to Hive Beach.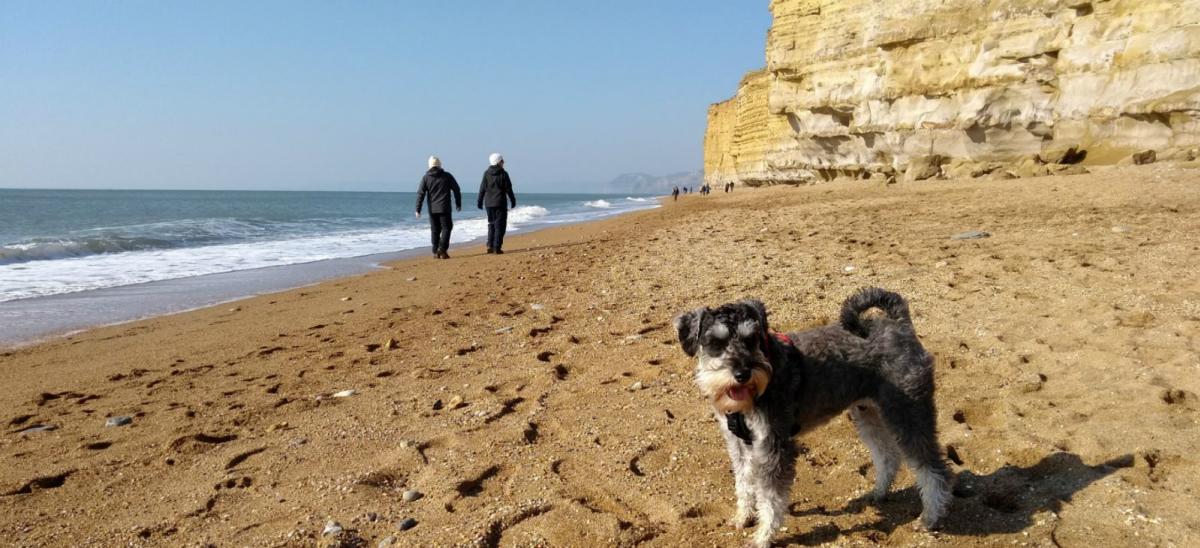 And there's no need to bring my usual packed lunch of carrot sticks and dried sprats when I come here! Round off your visit at the dog-friendly Hive Beach Café and your faithful friend can enjoy a home baked doggie treat while you enjoy local seafood, homemade cakes or a cup of tea overlooking the sea.
It's a popular place and you may have to wait for a table, but it's worth it!
Durdle Door
The rock arch at Durdle Door is probably the most recognisable landmark along the Dorset coast and the beach is dog-friendly all year round. Access to the beach is down a lot of steps, but it is well worth the effort!
Park at the public pay-and-display car park at Durdle Door Holiday Park, then follow the steep path down to the coast. Stop to admire the far reaching views along the coast and across to Portland, before descending the 140 steps to the pebble and shingle beach.
This iconic spot is very popular on summer days; I went one cold but sunny day in January and there were just a handful of fellow walkers and dogs enjoying this beautiful beach.
The steep walk back up the steps and back to the car park is quite tiring for those not as fit as me, but there are rocks big enough to sit on and catch your breath on the way and refreshments are available back at the car park!
Hengistbury Head and Mudeford Sandbank
Hengistbury Head, a scenic headland near Bournemouth, and Mudeford Sandbank, which extends off the headland and is lined with pretty coloured beach huts, offer lots of possibilities for a great doggy day out!
From the main Hengistbury Head car park, it's just a short walk to the café, the Visitor Centre (registered assistance dogs only permitted inside) and the beach. Dogs are welcome all year round on the sand and pebble beach which stretches all along the southern side of the headland.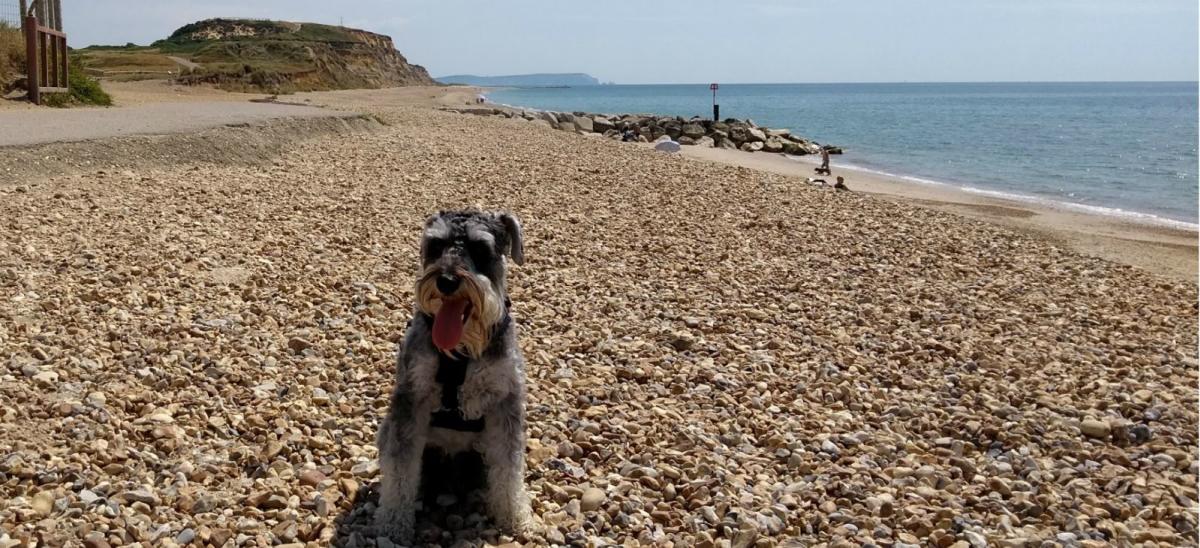 Follow trails amongst grassland, heathland, woodland and wetland or make the short climb to the top of Hengistbury Head to enjoy views of the Isle of Wight, Mudeford Sandbank, Christchurch harbour and Priory, the Purbeck Hills and Bournemouth Pier and beach. 
Alternatively, for easy access to Mudeford Sandbank, do as I did! Hop on the Land Train outside the café and enjoy the 15 minute ride. The trains run regularly, weather permitting. There's a small charge for dogs, but it was great fun and, as it was a hot sunny day, I loved feeling the wind in my face as we rattled along the headland in open carriages through lovely cool woodland, bound for the sandbank. When we emerged from the woodland, we had lovely views across to Christchurch.
The land train stops at Mudeford Sandbank, which forms a natural barrier between Christchurch Harbour and the sea. There are beautiful soft sandy beaches and colourful beach huts lining the shore.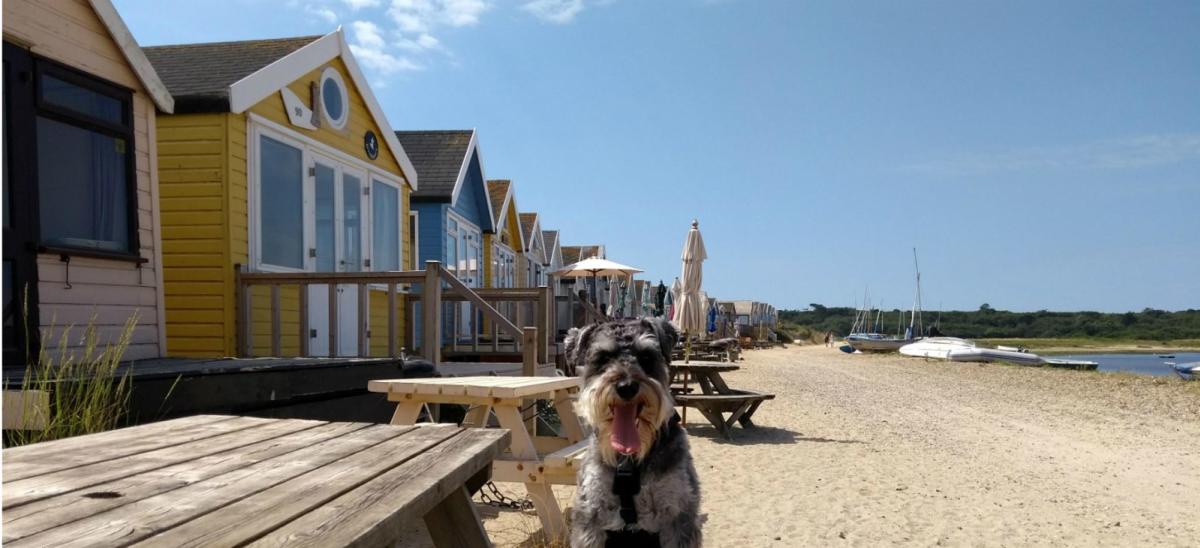 You can also get to Mudeford Sandbank and Hengistbury Head from the other direction, using the ferry from Mudeford Quay. Ferries run regularly and dogs travel free on this 5 minute crossing. From the ferry drop off, a beach café, toilets and the land train station are all just a short walk.
West Bay
Just a mile south of the lively town of Bridport is West Bay, a charming fishing village on the Jurassic Coastline, which you may recognise as the setting for ITV's drama Broadchurch. Long stay parking, toilet facilities and a children's play area can be found at the car park on West Bay Road and from there, the bustling harbour and beaches are just a short walk away.
The cliffs at West Bay provide a stunning backdrop for a fun day at the beach. Though the central beaches have dog restrictions during the summer months, wander along the esplanade westwards and you'll find a lovely long sand and shingle beach where dogs can play year round.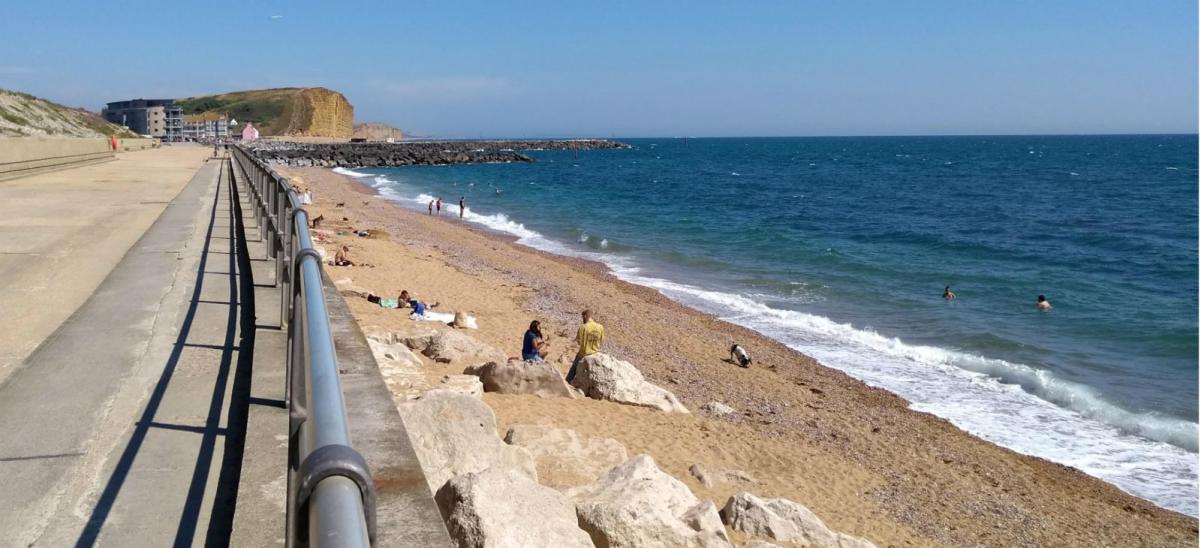 It's a popular spot for dog owners so if your dog is 'Mr Sociable' like me, there's usually plenty of potential playmates on the beach!
From here you can see along the coast to Eype Beach…another beautiful Dorset beach where dogs are welcome year round. That's next on my list; I hope to go there soon and will report back!
If you're looking for more information about visiting dog-friendly Dorset, head on over to our dog blog.