Visit Dorset Business Support
Transport membership

We want to inspire visitors to come to Dorset and plan to use your business on their holiday. By working together, we can help promote the Dorset public transport industry and support more sustainable ways to travel.
Promoting your business on visit-dorset.com is more than just a way to advertise your business.  We want to work in partnership and collaborate with you to make your business more profitable and the Dorset tourism economy thrive. 
Join us today, become a member and your business will gain access and prosper from:
Featuring on visit-dorset.com the top performing and official visitor website for Dorset 
A landing page for your business, harnessing the power of the visit-dorset.com website, a trusted source of information, ranked highly by search engines
A 15% reduction to our usual rates to support you through challenges caused by the COVID-19 pandemic 
Online booking the flexibility to integrate with a range of online systems or manage your bookings directly 
Press & PR opportunities welcome high-profile journalists and social media influencers to benefit from additional marketing
Social media campaigns opportunities to work together on joint campaigns
Featuring on extra pages for no extra cost your business will be listed on our popular Dog Friendly, Group Friendly and Accessible landing pages where applicable
Business resources to assist your marketing, including a seasonal image library and marketing campaign toolkits for your website and social media 
Helpful business support and marketing advice from our experienced team, engaging with us can really benefit your bottom line 
Members only access to additional digital marketing opportunities, banner adverts, website banners and in our targeted consumer e-newsletters  
Regular communication, we'll tell you about tourism industry news, promotional activities, training and events to keep you 'in the know'
Networking and webinars - meet other business and organisations to help stay connected
Favourable rates for companies with multiple businesses – please contact us to find out more
Reduced combined website membership rates when opting to feature on both Lyme Regis or Sherborne microsites and on Visit Dorset website.
Simple annual renewal occurring every April, further information within our terms and conditions
Read what's different about each website landing page package and what's included in the discounted price.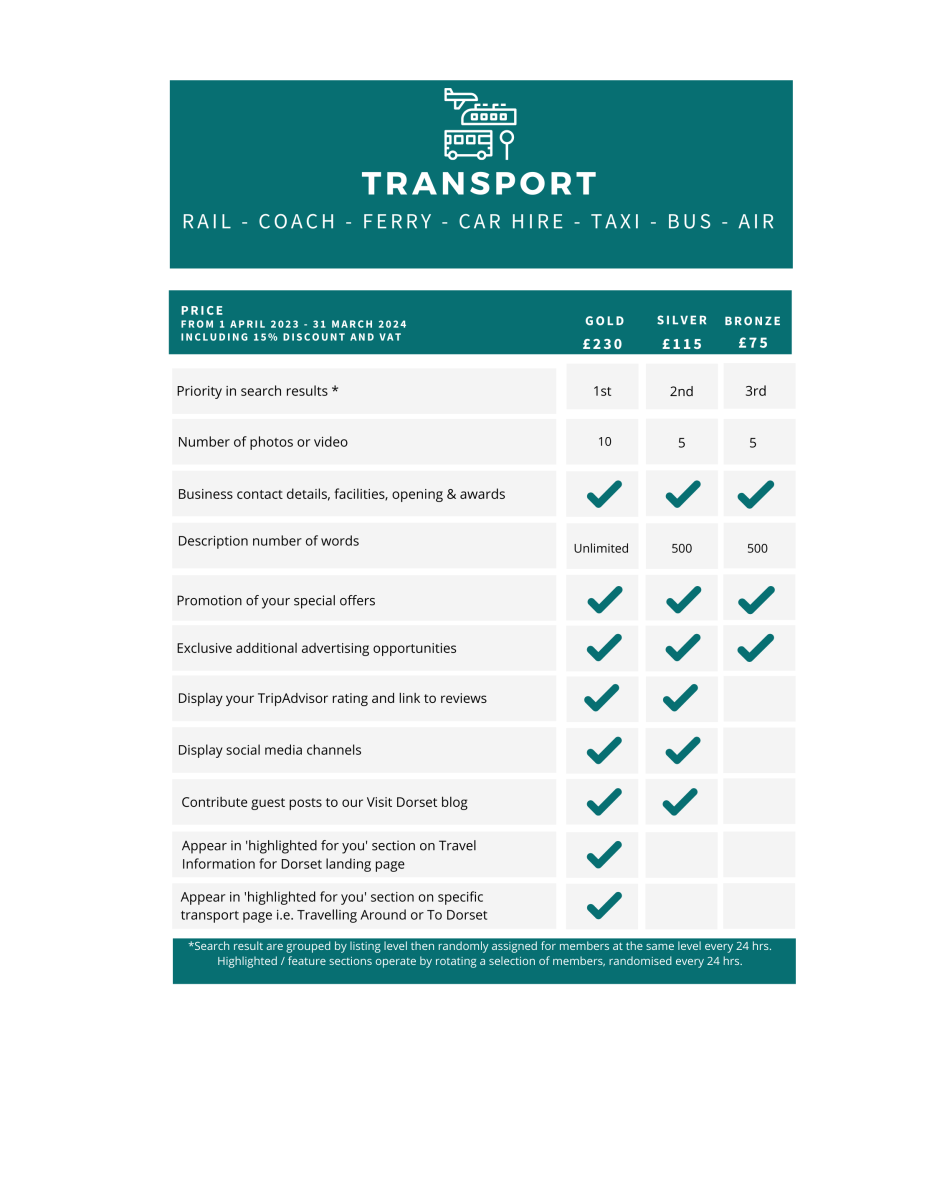 If your business is located in Lyme Regis or Sherborne you can also be featured on our new tourism microsites as a joint membership.
Lyme Regis tourism town website information about business membership
Sherborne tourism town website information about business membership 
Please contact us directly to enquire or book your 2023/24 membership package contact us.

What does your Dorset look like? Adventures on our epic coastline? Visiting attractions with family? A walk through the beautiful countryside? Or perhaps a chilled out evening eating and drinking with friends? Discover a sample of your #VisitDorset images below and share your love for Dorset using the hashtag on Instagram.