Visit Dorset Business Support Hub
What we do
We are passionate about Dorset and promote it as a world class destination to attract visitors and support the tourism industry. Investing in the future of the visitor economy in Dorset is at the heart of what we do. We want your business to succeed and we aim to help drive a thriving and vibrant tourism economy by:
Supporting tourism businesses to grow, and tourism start-ups to thrive.
Promoting and marketing Dorset tourism businesses and visitor experiences to a national and international audience to grow awareness of Dorset as a fantastic visitor destination.
Maintaining current loyal visitors, attracting new visitors and maximising their spend to help the tourism and wider economy of Dorset.
Improving the visitor experience by providing information and signposting training and business skills to tourism businesses in Dorset.
Our work encompasses digital content marketing; publishing visitor guides; supporting PR and media activity; operating and partnering with local tourist information centres, and contributing to strategic partnerships that benefit the Dorset visitor economy.
Digital
The Visit Dorset website is the official hub for Dorset tourism and our destination marketing content. Reaching over 2.6 million visitors each year, the site has been developed for optimal user experience; maximum search engine visibility; and offers integrated advertising opportunities for tourism businesses through our membership packages. 
Read more about our website and wider digital marketing activities.
Campaigns and collaboration
We support Visit Dorset members and the wider tourism economy by investing in ongoing marketing campaigns and work together with relevant organisations that work to promote and support tourism and conservation interests across the county.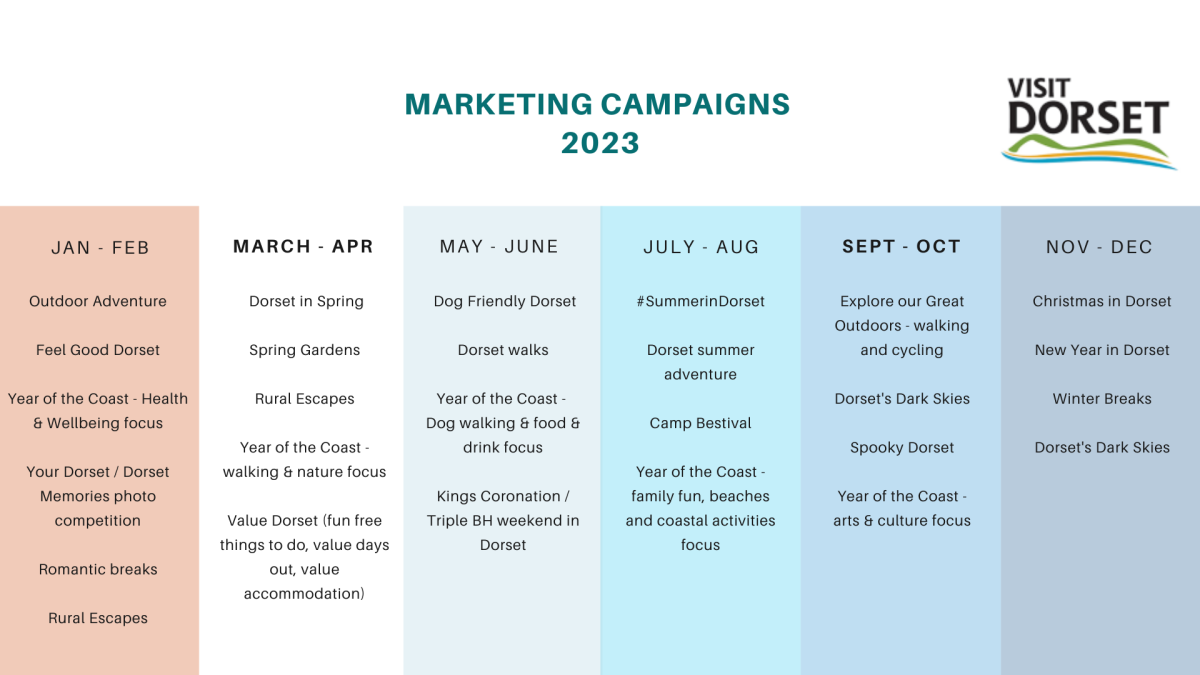 Stay up to date with our recent marketing activity by reading the updates on our e-newsletters and follow our business Twitter account @VisitDorsetBiz
Press and media
Throughout the year we receive a large number of enquiries from journalists, pre-production crews, bloggers, vloggers and photographers for press contacts and assistance to aid in planning their visit to Dorset and also gaining the relevant permissions for TV and film companies seeking to use Dorset as the backdrop for their next production.
Read more in our Press and Media Room section.
Print
We produce the Days Out in Dorset map and guide each year for print and online distribution, which provide further advertising opportunities for Visit Dorset business members to reach potential customers.
Contact us
For further information about our work and marketing campaigns, visit our news section, follow our business Twitter account @VisitDorsetBiz or contact us.
What does your Dorset look like? Adventures on our epic coastline? Visiting attractions with family? A walk through the beautiful countryside? Or perhaps a chilled out evening eating and drinking with friends? Discover a sample of your #VisitDorset images below and share your love for Dorset using the hashtag on Instagram.