Visit Dorset aid Covid-19 recovery for tourism businesses by introducing new destination website
As part of Dorset's Covid-19 recovery strategy, Visit Dorset, Dorset Council's tourism team responsible for promoting the county, has launched a new and improved website to support the local economy and generate more tourism visits and bookings. Despite a challenging 18 months for the tourism sector, Visit-Dorset.com attracted more than 2.75 million visits over the past year, an increase of 15 per cent compared to the previous 12 months.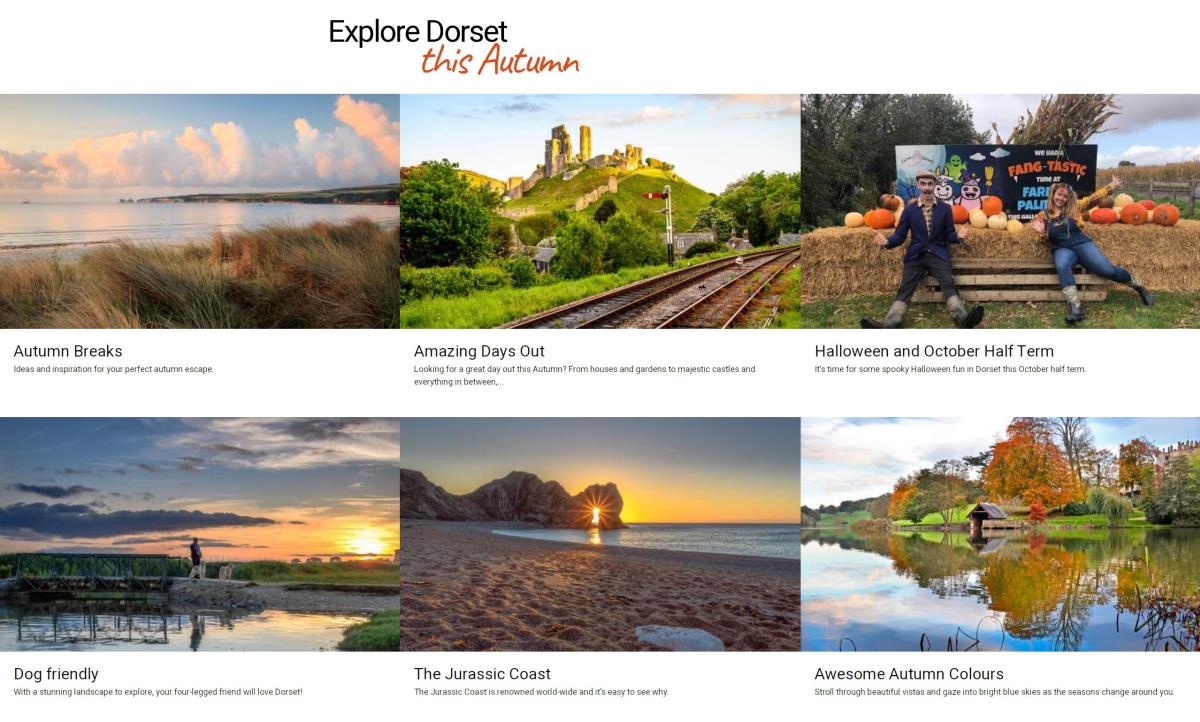 The Visit Dorset team are launching its redeveloped and redesigned website to support the recovery of the tourism sector.  The improved website has been supplied by leading tourism digital agency, Simpleview and Visit Dorset is the first European destination to build on their US platform. 
The new website makes it easy and intuitive for the visitor to research and book a holiday to Dorset.  The website uses Dorset imagery sourced directly from social media, keeping the site authentic and engaging, as well as dynamic content, which displays information specific to the website visitor's previous site use. 
Dorset Council's Portfolio Holder for Economic Growth, Councillor Tony Ferrari, says, "The tourism sector contributes £1.8 billion to the Dorset economy and employs over 40,000 people.  As one of the hardest hit sectors during the Covid pandemic, we recognise the vital role that tourism plays in supporting our local economy.  Business recovery is a key priority and the launch of the redeveloped  visit-dorset.com website is attracting more people to come and experience Dorset, a great place to visit."
The improved website features bold design, impactful imagery, video and inspirational content to captivate both visitors and local residents and encourage them to explore the county.   A series of mini sites for towns that sit under the Visit Dorset umbrella and provide more localised destination content are in the pipeline and are set to be rolled out by the end of the year.
Rachel Symes from the Visit Dorset team, says: "As the team responsible for promoting the county, we continually look to improve our business support to the industry so we can reach even more potential customers on their behalf. Our upgraded website is key to helping us to achieve this.  As we head into the quieter winter months, it's important that tourism businesses look for ways to attract visitors.  Membership with Visit Dorset will allow businesses to extend their reach to thousands of potential customers who are actively researching a visit over winter and beyond. Benefits of partnering with us as members include raising awareness of your business through our digital and social channels, marketing campaigns, PR coverage as well as access to training and industry updates."
To coincide with the launch of the website Visit Dorset is offering businesses a 25 per cent discounted rate on its 2021/22 membership packages.   Packages can be purchased via www.visit-dorset.com or contact the Visit Dorset tourism team on 01305 252241.
Source of data: Economic Impact of Dorset's Visitor Economy 2019: South West Research Company Ltd