Days Out - We're Good To Go
Dorset's visitor attractions, activities and eateries are ready to welcome you. They have completed a risk assessment and put COVID-19 measures in place so that visitors have confidence in enjoying a day out in our beautiful county.
Some businesses have also achieved a certificate to show that the safety of their visitors and employees are a top priority and that they have put in place the necessary procedures that have been provided by the government.
These businesses have gone the extra mile, and sometimes above and beyond what the guidelines state for their visitors' wellbeing and enjoyment of their day trip to Dorset.
We're Good To Go
'We're Good To Go' is the new official UK mark to signal that a tourism and hospitality business has worked hard to follow Government and industry COVID-19 guidelines and has processes in place to maintain cleanliness, aid social distancing and for training staff. The business will also be alerted if guidelines change so you can be confident that they are up to date and following the very latest guidance.
Keep an eye out for the official UK mark when planning your trip online or enquire whether the business you are visiting has obtained this certificate.
Businesses which welcome international visitors may also display the World Travel & Tourism Council's Safe Travel stamp enabling travellers to recognise destinations around the world which have adopted global standardised protocols.
You can now search for businesses which have achieved this mark on the Good To Go website.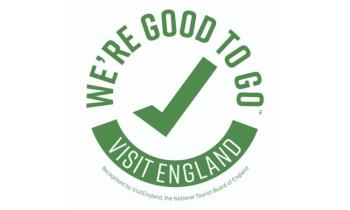 The AA COVID-19 Confident scheme
The AA has also launched a COVID-19 Confident assessment scheme which the aims to support the hospitality industry and to help to rebuild consumer confidence.  The award indicates to customers that an establishment has in place the necessary risk assessment and safety measures to re-open safely in line with the UK's respective government guidelines.
More information regarding the AA Covid-19 Confident scheme can be found here.
Plan your visit
Enjoy a day out in Dorset with confidence.
Dorset businesses that have been awarded the 'We're Good to Go' or AA COVID-19 Confident certificates are listed below. If you are visiting a particular area of Dorset, you can view a map of where all the businesses are located by clicking on 'View Map'. You can then zoom in and out of the map.
You can create your own bespoke holiday itinerary of places to visit by clicking on the 'heart symbol' underneath the business name below. You can then email the itinerary to yourself to bring with you.
If you are looking to stay overnight, you can see a list of accommodation which have been awarded the certificates.