Dorset businesses are pleased to welcome you back to our beautiful county again. They have worked hard to ensure that the safety of their guests and staff are a top priority by carefully putting in place the necessary procedures that have been provided by the government. This all goes to help to ensure that you feel confident to visit Dorset.
Businesses have completed a risk assessment and put COVID-19 measures in place so that visitors have confidence in entering their establishment.
Many businesses have also signed up to the 'We're Good To Go', AA Covid Confident or Safe, Clean & Legal™ schemes.
These businesses have gone the extra mile, and sometimes above and beyond what the guidelines state for their visitors wellbeing and enjoyment of their day trip or holiday to Dorset.
We're Good To Go
'We're Good To Go' is the new official UK mark to signal that a tourism and hospitality business has worked hard to follow Government and industry COVID-19 guidelines and has processes in place to maintain cleanliness, aid social distancing and for training staff. This is a self-assessed scheme and spot checks on businesses are taking place. The accommodation business will be alerted if guidelines change so you can be confident that the business is up to date and following the very latest guidance.
Keep an eye out for the official UK mark when planning your holiday or enquire whether the business you are visiting has obtained this certificate.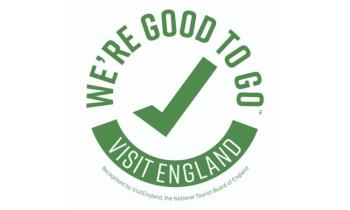 Businesses which welcome international visitors may also display the World Travel & Tourism Council's Safe Travel stamp. The WTTC stamp enables travellers to recognise destinations around the world which have adopted global standardised protocols.
You can now search for businesses which have achieved this mark on the Good To Go website.
The AA COVID-19 Confident scheme
The AA has launched a COVID-19 Confident assessment scheme, with the aims to support the hospitality industry and to help to rebuild consumer confidence.  The award indicates to customers that an establishment has in place the necessary risk assessment and safety measures to re-open safely in line with the UK's respective government guidelines.
More information regarding the AA Covid-19 Confident scheme can be found on the Rated Trips website.
Quality in Tourism - Safe, Clean & Legal™
The Safe, Clean & Legal scheme™ from Quality in Tourism ensures that businesses have the correct documentation and checks in place, from fire safety to food safety, confirming that the accommodation meets or exceeds minimum standards. 
The accreditation demonstrates the accommodation's commitment to standards, reassuring potential guests that they have appropriate standards and that they have been inspected by an independent third party.
The scheme has been running since 2018, but has been updated to reflect additional requirements and standards for travel in the post-COVID era. 
Keep an eye out for the logo when planning your holiday or enquire whether the business you are visiting has obtained this accreditation.
Plan your visit
To help you plan your visit with confidence, look out for the 'We're Good To Go' and COVID-19 Confident logos on individual business pages throughout our website or enquire whether the businesses you are visiting have obtained these certificates.